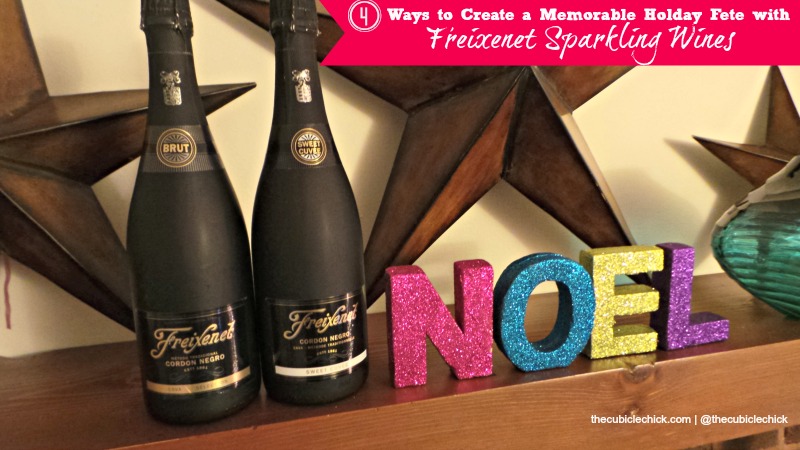 With the holiday season in full swing, you may find yourself planning a holiday fete for you and yours. This time of the year is an absolutely fabulous time to celebrate relationships and toast to the things we are most thankful for–and what better way to do that than with a bunch of your nearest and dearest?
If you are planning a holiday soiree, especially the grown and sexy kind, then you want to make sure to have some spirits on hand for decking the halls. I recently got the opportunity to try Freixenet ("fresh-eh-net") Sparkling Wines, and I must say, as a wine enthusiast, I was quite impressed. I've created four ways that you can create a memorable holiday fete with Freixenet Sparkling Wines (click here) that will give you the hostess with the mostess crown.
Here are my tips:
If you can, always send invites to your holiday party via snail mail. Although overlooked, there is something special and memorable about sending actual invitations. Choose a holiday themed invite that you can purchase, or download a template online to help you create a personalized invitation that will be hard to turn down.
Once everyone has arrived, after some mixing and mingling, facilitate a toast as an ice breaker. Thank everyone for coming to your party and make sure to have plenty of wine glasses for the occasion. You can even purchase plastic wine glasses that still look classy and can be tossed after use. Be sure to use Freixenet Cordon Negro Brut, which is referred to as the "Black Bottle Bubbly". It's the #1 imported sparkling wine in the world and is perfect for holiday gatherings and parties.
You don't have to serve a full four course meal. Appetizers and finger foods are a great touch and can also fulfill the palette. Make sure to use a wine to bring out the taste in meats and cheeses. Freixenet's Cordon Negro Brut and Cordon Negro Sweet Cuvée both pair well with these as well as spicy foods.
Make sure to have plenty of sights and sounds for the occasion. On the TV or flatscreen in the main area, play holiday movies like It's a Wonderful Life or Miracle on 34th Street, on mute of course. Having a visual like this going on in the background is something your guests will enjoy and traditional holiday movies like these are great conversation starters and ice breakers.
Holiday parties are time consuming to put together, but with these tips, can up the ante for other parties that your guests may also attend. Make sure to mix and mingle with your guests and not be a wallflower.
Freixenet Sparkling Wines are inexpensive but have high quality taste, with bottles retailing for around $12. Compare that to a bottle of Dom Perignon Champagne​. Freixenet is the world leader when it comes to Spanish Cava. Family owned since 1861, the winery has been passed down to four generations and is located near Barcelona, Spain.
You can purchase Freixenet Sparkling Wines at most wine retailers and in Publix, Whole Foods, and Trader Joes.
Who says the holidays are the only time for bubbles?  Make it your resolution to sparkle 365 days of the year with Freixenet cavas. Our sparkling wines come in a variety of different styles to suit any moment or mood. Cordon Negro Brut, our classic Black Bottle Bubbly, is great as an aperitif before a night out on the town or at home with takeout pizza. Our brand new Cordon Negro Sweet Cuvee is the perfect match for brunch favorites like pancakes and eggs benedict. Visit FreixenetUSA.com for more information about where to buy Freixenet sparkling wines and learn how you could win a 2-year lease on a new 2013 MINI Cooper.
This is a sponsored conversation written by me on behalf of Freixenet. The opinions and text are all mine.