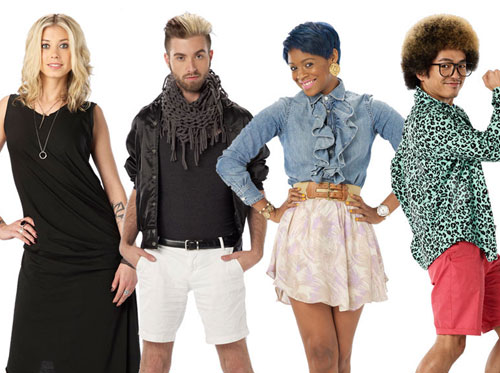 YES! When I say that I am oh so thrilled that Season 10 of Project Runway is almost here, I am not lying. After watching Project Runway All-stars and enjoying the first season of NBC's Fashion Star, there has been a void of fashion programming in my life. I live for seeing designers doing their stuff on the boob tube!
Season 10 of Project Runway promises high drama along with hautness. Heidi Klum is back to give us face while mentor Tim Gunn continues to dish his tough love and professional opinion to this year's contestants. The theme this season is 'Cut or Be Cut', so expect intense exchanges between the contestants as well as cutthroat runway shows (which happens every season).
I am not sure what keeps me coming back to Project Runway each season because my favorites never really make it to the final runway showoff. But I must admit, seeing these talented designers whip up fashions under extreme pressure while enduring stressful challenges makes for must see TV. I am a sucker, and I fall for it every time.
Designers for Season 10 of Project Runway are:
Alicia Hardesty
Andrea Katz
Beatrice Guapo
Buffi Jashanmal
Christopher Palu
Dmitry Sholokhov
Elena Slivnyak
Fabio Costa
Gunnar Deatherage
Kooan Kosuke
Lantie Foster
Melissa Fleis
Nathan Paul
Raul Osorio
Sonjia Williams
Ven Budhu
Judges Michael Kors and Nina Garcia return to assist Heidi Klum in determining who will stay and who will go.
Season 10 of Project Runway premieres on Thursday, July 19th at 9/8 CST.
Will you be watching?
About The Author
The Cubicle Chick, otherwise known as Danyelle Little, is the owner and editor of TheCubicleChick.com. After losing her job in Corporate America in 2009, she found a way to channel her frustration into a site that focuses on work, life, and play. Danyelle blogs and administers this site full-time, freelances for several other sites and publications, and works as a social media consultant to other brands, bloggers, and businesses. You can learn more about her by visiting DanyelleLittle.com.