I had my very first experience with Lush, the fresh handmade cosmetic company out of the UK. Their small kiosk in Macy's finally caught my attention after years of me taking a casual glances over at the various baskets and crates of goodies. The scents that greeted me when I walked into the makeshift Lush store got me giddy and the two salesgirls seemed eager to help me since there was no one else around.
I was shown the Bath Bombs first and I was impressed when I saw the presentation of the bomb fizzing and bubbling in the pitcher of water like an alka seltzer. I was then given a demonstration of the Bubble Bars which I was told would create more bubbles than anything offered over the counter in the store. My daughter begged me to buy her a few for her bath so I only bought two since I wasn't sure how they would turn out. Needless to say, I wish I would've bought more. I purchased Peppermint (which I was told was a seasonal item) and Creamy Candy and tonight in my daughter's bath, we tried the Creamy Candy and let me tell you, the bubbles were endless. She enjoyed her bath and it also left her skin smooth and well moisturized. The only negative I would say about the product was that it took a while for the Bath Bomb to dissolve in the water and there were hunks of unused or unbubbled bomb in the water. That may, however, be due to the fact that I have poor low pressure in that particular bathroom. In any event, though Cubicle Chicks, I would say this is a wonderful product for you or the kids or a loved one!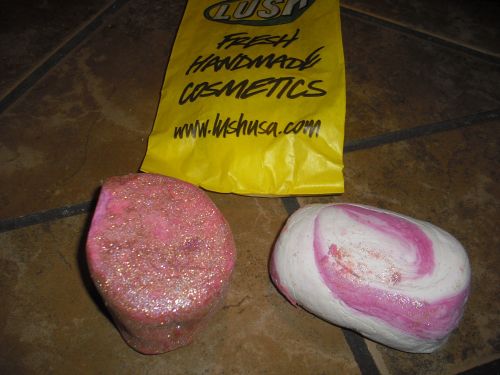 I also purchased two Emotibombs for my shower experience. According to the sales rep at the counter and the website, Emotibombs give you the power of mood altering essential bath oils just as the Bath Bombs do but in shower form. You simply put the bomb on the floor and as the shower runs, the smell of the bomb along with the steam in the shower hydrates your skin and works as a sort of aromatherapy. I purchased two 'Up You Gets' which was a bohemian type of scent that was real earthy and tribal and let me tell you, the scent is wonderful. But, once I was in the shower for a few minutes, I no longer noticed the smell and when I got out, I smelled it more than I did when I was in the shower. And the smell is still in the bathroom 24 hours later which is great. My skin felt smooth, silky, and well moisturized. This is a must buy!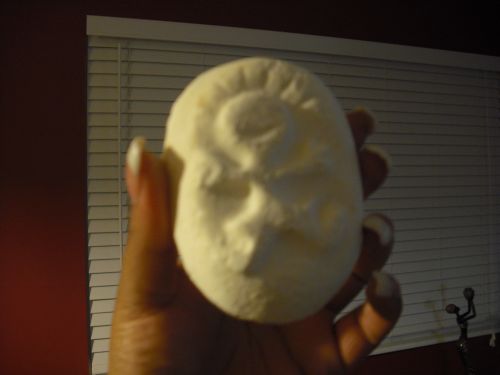 So, I conclude this post with the news I am sure you were waiting for. As I announced on Twitter, I am holding another giveaway for a gift pack of Lush items shown below. All you have to do is Twitter this line: TheCubicleChick.com is sponsoring a Lush Giveaway #TCC. It's that easy! One winner will be chosen at random on Sunday, November 15th after 5pm EST. You can enter as many times as you like, and I urge you to tweet away! Good luck!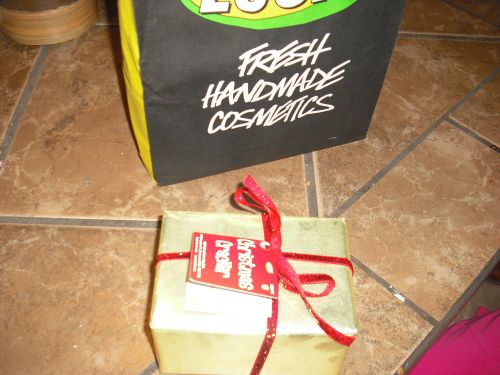 *TCC was not compensated or paid by Lush or Macy's for this review.