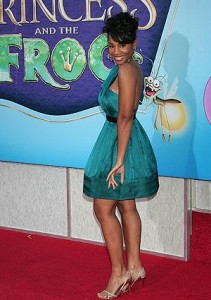 The hype has been building for Disneys latest blockbuster animated production, The Princess and The Frog. What's more is the movie features the first ever African American Princess-Tiana- as the lead character. I know some of you may be reading this wondering what the big deal is, but to me, this is a huge statement Disney is making. The fact that they chose to have a feature film starring a Black princess is very big, and my daughter and I are so excited about the release and we plan to see it on opening night.
I grew up with Cinderella, Snow White & The Seven Dwarfs, and countless other Disney princesses and beauties but none of them looked like I did. To know that my 5 year old daughter will have a Disney princess that looks like her makes me feel like real change is happening! She will now have a princess to identify with that will be held in the same esteem as the previous Disney female characters.
The folk over at Essence sent my PR rep a pitch of their new issue which will be in stores and mailboxes shortly that features Anika Noni Rose, the voice of the Princess in the movie. For those of you who don't know Anika starred in Dreamgirls alongside Jennifer Hudson and Beyonce as one of the Dreams and also on the small screen playing the sidekick to Jill Scott's character in the HBO series, The No. 1 Ladies Detective Agency.
To read the full interview, click HERE.
Disney's The Princess and The Frog enters the theaters nationwide on Friday, December 11th. I can't wait!
Special thanks to Patricia Cesaire for the info