…ad in order to put her ex boyfriend on blast (the billboards can be seen in New York, San Francisco, and Atlanta). YaVaughnie Wilkins did just that, to get back at Charles Phillips, with a photo of the two of them together looking like they are in love. The only problem is- he is a married man. And she was a mistress.
Apparently Charles was having his cake and eating it too. As co-president of Oracle, a leading software firm, and a board member of President Obama's economic recovery team, he seems like he has it altogether. On paper that is. Charles has a wife, according to sources, and has been having an affair with Ya'Vaughnie for what some say is eight years or more.
If his relationship with Ya'Vaughnie was a secret, now it's not. And Charles joins a long list of player husbands such as Tiger Woods and John Edwards, who recently admitted to fathering a child while his wife was suffering from terminal cancer and running for the highest office in the land.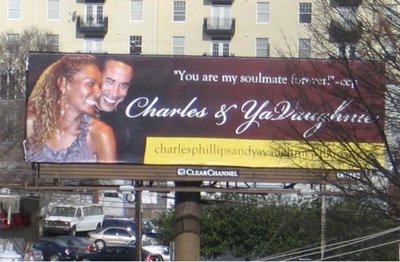 What do you think? Was YaVaughnie justified in purchasing a billboard calling out her ex lover, cheater Charles Phillips? Or did YaVaughnie go too far? Comment below and let me know your thoughts.
Read More on Shine