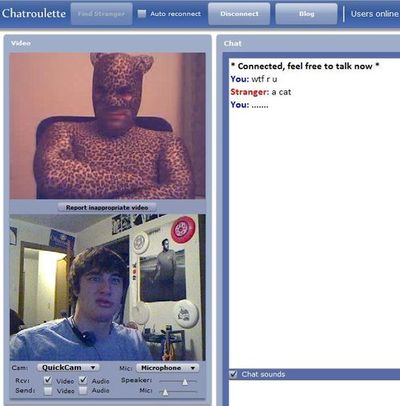 When I received an email a few weeks ago about a new social networking site called ChatRoulette, I didn't pay it much mind. Little did I know that the email was a tip about the site and was a request for me to blog about it. That will teach me to read all of my emails thoroughly.
A few days ago, I saw a news program mentioning ChatRoulette and that is was a site that allowed people to chat with one another with the use of webcams. But just as its name suggests, you have no idea who you will be matched up with, which can cause people with horrible intentions take prey on those using the service.
When you log into ChatRoulette.com you are matched up with another video chatter who you don't know. There are two boxes on the screen, your webcam and the other person's webcam. You can chat with the person in front of you or you can click a button that will allow you to go to the next person in cue to chat with. But some are using the site for porn and other acts, that are not safe for youth.
The website was started by a seventeen year old in Moscow several months ago, and has gained a popular following. As many as 85,000 users at once are logged into the site and video chatting. The site is supposed to be fun; the idea that strangers can connect and converse online, but there are some that are using the site to promote their pornographic websites and videos, showing visuals that are too grotesque for the youth the site is attracting.
This site is not recommended for those under the age of 18, although the site states that you must be 16 and up to use the site.
Make sure that your children do not use ChatRoulette. And if you decide to use it, be aware that you may come in contact with activity that is sexual in nature. For more information on the site, click HERE.