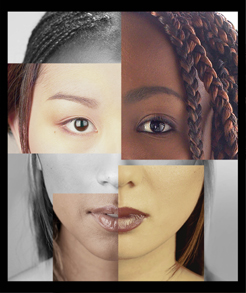 When I began seeing the advertisements for Race–Are We So Different locally, I knew I instantly that I wanted to be a part of it. In our society, of course, even today, race is a taboo and sticky subject.
This past Saturday afternoon, my Aunt and I trekked to Forest Park where the Missouri Museum of History is stationed, and purchased our tickets for the exhibit. I was not sure what to expect, but was very impressed when we began our tour of the exhibit.
The exhibit was broken up into different segments, talking on array of race related subjects including how does one "sound like their race", "what determines race", and "what color is money".
This exhibit was a very moving piece, and touched on everything from the beginnings of humanity in Africa to President Barack Obama being elected the firs Black Presiden of the United States. I was unable to take as many pictures as I wanted, but I am hoping that the few that I did take gives you an idea of the many gems that are awaiting in the exhibition.
RACE- Are We So Different?  runs at the Missouri Museum of History until April 4th. Tickets are just $8.00 and children 5 and under get in free. The exhibition is free to all attending on Tuesdays, so check the museum website for more information.
I urge all of the St. Louis readers to visit and check it out!