When I was a little girl and I perused my grandmother's photo album, I was always in awe of her beauty. My grandmother was a stallion in her day, with her cafe au lait skin which was smooth as homemade butter, radiant eyes, flamboyant clothing, and radiant looks. In the photos of her, I saw a woman who oozed glamour out of every pore. With her faux furs, polyester bellbottoms and bejeweled evening gowns, this woman was a titan when it came to fashion and flair. Seeing her dolled up when I was a kid gave me an idea of what true glamour was about.
Fast forward to present day. While reading the April issue of Glamour magazine, the Editor Cindi Leive, wanted to know what our definition of glamour was. Is it the fashionable Christian Loouboutins one might wear? Is is a movement or a look or trend? Is it timeless and effortless?
What does the word glamour mean to you?
Said Fashion Designer, Vera Wang: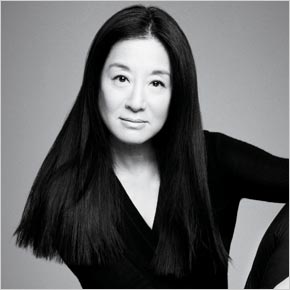 "Glamour implies creating a reaction, some force or presence that engages people. in our culture, we aspire to glamour, but ultimately there can be no glamour without joy."
Said Oscar Nominated Actress Gabourey Sidibe:
"I feel most glamourous when I'm wearing anything purple. Purple is my mom's favorite color, so it makes me feel close to her and happy."
I'm sure we all have our own definitions of glamour which have been shaped by the media or by art or by a loved one, like my grandmother. In my opinion, glamour has nothing to do with money, that is decadence. Glamour is when, in any situation, you can remain humbled and beautiful inside and out without breaking a sweat.
What does the word glamour mean to you? What are some examples of who shaped your idea of glamour? Who is the most glamourous celebrity?
Quotes above from the April issue of Glamour magazine, on newsstands now. Photo of Zoe Saldana courtesy of Glamour.