How do you think the media shapes society's ideas of women's body parts, sexuality, and roles when in comes to feminine hygiene? If you say that the media doesn't play a part in the way we view women, I would say that you are wrong. Television tampon commercials usually either show women as very happy or very sad. One dramatic medium to another, but never embrace the real true story of women and the trials of their monthly visitors.
It's time to break the cycle.
We are living in the 21st century. No longer should we continue to live under the mores of a time long ago where women wore chastity belts. Isn't time that the media and others played catch up?
Which is why U by Kotex came up with Breaking the Cycle by signing the Declaration of Real Talk. There is still secrecy and shame when it comes to women's periods, something that is quite natural. The Declaration of Real Talk is for women and their supporters to stand up and decide that this hushed mentality is no longer needed. Menstruation is not a taboo subject. It is a part of life.
The Declaration of Real Talk states: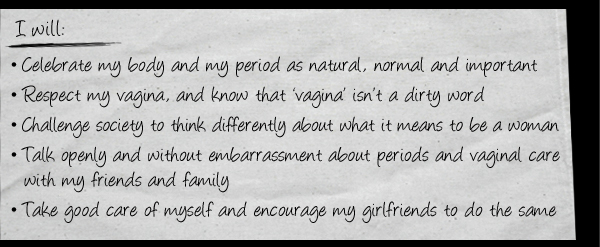 You can get involved and learn more about Breaking the Cycle and The Declaration of Real Talk by clicking HERE.
TV Personality Khloe Kardashian is speaking out about Breaking the Cycle by lending her name to the cause.  Here are a few pictures below during an event in New York City.
What do you think about the Declaration of Real Talk and the Breaking the Cycle campaign?
Photos courtesy of Wireimage/Getty Images