We came. We saw. We ate. We are living the life!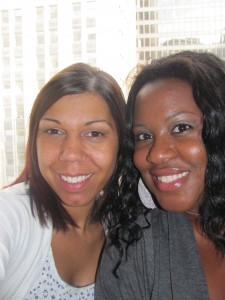 Things have been lovely since arriving in Chicago yesterday. My flight was quick and painless (a mere 37 minutes) and once I arrived, I was elated at the suite in our hotel. The accommodations at Comfort Suites Hotel on Michigan Avenue are divine! Yesterday after settling into our hotel, we ventured out to do a little sight seeing in the area, and later met up with my Pop Culture Contributor, Afreshmusic, to eat some grub at my favorite Chicago style pizza joint, Giodano's.
The trip so far has went lovely except for a few connectivity problems with my Blackberry (womp womp). I was unable to connect to the network for a few hours but it seems like all is well and good for now.
For up-to-the-minute updates on our Chicago trip, please follow #TheChicksInChicago hashtag on Twitter.
Here are a few photos from our first day in The Windy City: