Thanksgiving is usually a busy holiday for us all—with the stuffing of the bird and all of the preparation that goes into making the holiday one to remember, we often forget to take care of ourselves; either that or we run out of time to do so. I have learned early in my stages of motherhood that when we neglect ourselves, we do our family and loved ones a disservice because we can't be wonderful to others if we aren't wonderful for ourselves. So I invented a personalized Thanksgiving Eve Beauty Routine that I use every year (I also use a version of this at Christmas as well) to help me feel luxurious right before the holiday.
Here's the steps to the routine:
Step #1:
Notify your family that you are indulging in a stress free beauty treatment and you are not to be disturbed at all. Use a cute mom friendly "Do not disturb" sign for your bathroom door to make sure your family adheres to the rules.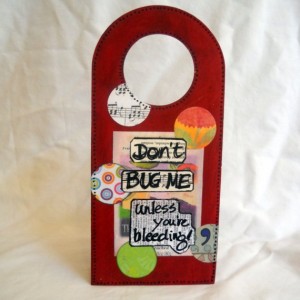 Step #2:
Load in your favorite CD or playlist into your iPod, iTunes player, or portable CD player. My favorite is a playlist I call 'Golden' that has tune-age from favorites Jill Scott, Mariah Carey, Sade, Beyonce, Adele, and Alicia Keys (to name a few). Light a scented candle or two and enjoy a little aromatherapy. I most enjoy Glade's Winter Collection in French Vanilla as it smells heavenly.
Step #3:
Draw a luxurious bubble bath utilizing your favorite bath beads or bath soak. One of my personal faves is the Eucalyptus Spearmint Stress Relief by Bath and Body Works. You can also add just a touch of baby oil or Avon's Skin So Soft to help moisturize skin. If you do add this, do not use with bubble bath because the oil will deplete the bubbles.
Step #4
While your bath is running, apply a facial mask that is for your skin type. I love Mario Bedescu's Drying Mask for all skin types, and it does wonders for my skin.
Step #5
Get into the tub and soak a bit. This will allow your skin to get soft and supple. Exfoliate using a skin brush or loofa to remove access, dead skin. Also, utilize a pumice stone to rid your feet of the scale-like hard skin that makes our feet rough.
Step #6
While still in the tub, massage your scalp with a light oil (preferrably on clean, newly washed hair). I like Sally's Proclaim Natural 7 Oil. Cover with a towel while in the tub to let the steam moisturize your hair with the oils.
Step #7
Finish bathing and then get out of the tub. Dry yourself with a high fiber drying towel and then moisturize your skin post bath. Bath and Body Works' True Blue Spa line's Lay It On Thick is hands down the best moisturizer on the planet. I am not too fond of the Play-Doh esque smell but the benefits outweigh that negative. You can always add a light scented oil or bath spritz afterwards for smell.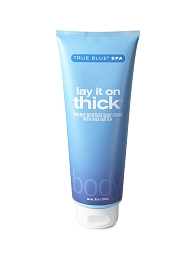 Step #8:
Remove the facial mask and follow up with your skin care routine. Unwrap your hair and it should feel lush and soft. Cut a jig in the bathroom if you want since your playlist is still going—there is nothing like dancing in the bathroom.
Step #9:
Put on your PJ's, take the "do not disturb" sign and put it on the bedroom door and grab a good book or magazine. Yes, reading is a part of being beautiful—it calms nerves, heightens the senses, and is oh so sexy.
Step #10:
ENJOY YOURSELF
This is a basic and simple routine, but it can do wonders for you. When you are done, you can continue basting the turkey or begin your place setting for the table—but you will be doing so well relaxed and well taken care of. And you don't have to indulge in this ritual only during the holiday season—use it year 'round to keep you centered and feeling beautiful!
Happy Thanksgiving!
As an avid beauty enthusiast, all items above have passed The Cubicle Chick test. I purchase these items on my own regularly and have not been compensated for anything in this review. AKA, I like it so I hope you do too!