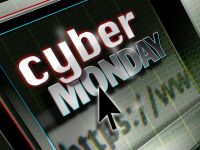 Black Friday is the biggest shopping days of the year. With deep discounts and unbelievable sale prices, retailers know how to lure customers into their stores. The day after Thanksgiving, methodically coined Black Friday because during the sales rush, retailers turned a profit and went from red to black, has become a staple in our society. Black Friday marks the beginning of the holiday season and a time to save on the items most wanted under the tree. But as consumers feel the pinch in their wallets, stores have been forced to give steep discounts earlier this year. And the deals and discounts won't stop with Black Friday or Cyber Monday.
Retailers began slashing prices a few weeks ago. The Albuquerque Express and CBS News reported that "Staples(.com), as much as 50 percent off starting the Sunday before Thanksgiving, and Walmart.com, that sale starts early this month".
On Amazon.com, a Flip MinoHD video camera was $109.00 on November 22nd. The regular list price for this Flip camera is $229, so Amazon.com is was selling it at $120 less than list price several days before Black Friday and Cyber Monday.
The bargains you may be seeing on during the Black Friday/Cyber Monday sales rush are bargains that have been available to you as early as the beginning of November. But with the popularity of Black Friday/Cyber Monday, these deals are being broadcast more than before, giving the impression these two days are the only days to get true deals.
Also, with the popularity of shopping online, retailers have found they must compete with online stores in order to rally shoppers into their stores. Albuquerque Times reports, "About 40 percent of shoppers are saying they're going to do some of their shopping this holiday online … So, it's very important to those online retailers, too. Amazon.com has already started what it calls the 'Countdown to Black Friday,'…" Creativity is indeed key to going from the red to the black. And stores will be chasing that black tape for the duration of the holiday season.
If you cannot find the deal you are looking for now, being patient and waiting may land you your ultimate sales price.
If you are currently surfing for deals during Cyber Monday, have fun, but keep in mind that the massive sales and discounts have only just begun.