The holidays are always fun when you can give a gift that can help decorate an office or spruce up a cubicle. As a reformed Cubicle Chick who has left the office to work at home, I have an office space in my home that I use to crank out my magic, and it wouldn't be complete without a decoration here or there. I also have an addiction to office supplies, so much so that I get much joy from shopping at Office Depot and Office Max. But let me not digress.
Here are a few picks of great holiday ideas for those who are giving gifts to those with an office or cubicle: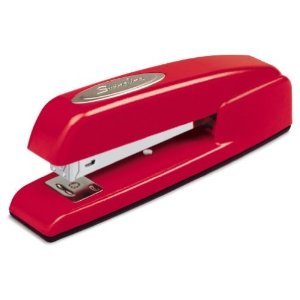 These 'Mad Men' esque old school Swingline staplers are my favorite. I love the art deco feel of them and just having one on your desk makes a design statement. Amazon, $21.99
Crane & Co. has the best stationery on the planet. Made with fine fiber and quality workmanship, giving the gift of quality stationery is always appreciated. Crane & Co. Boxed Stationery Gift Set, $18.00 per box of 10
If you are a cubicle dweller, putting your purse in an empty desk drawer has been the best solution for storage. But now with these cute purse hooks, you can be contemporary and decorative. Purse hook, Red Envelope, $19.00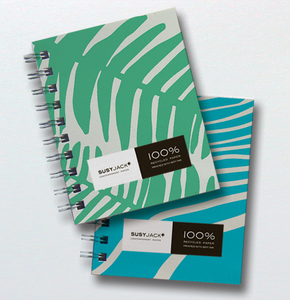 These fabulous and fashion forward Demi spiral notebooks from SusyJack.com are perfect for jotting down notes and lists. Who says your notepad has to be boring? $9 each.
I have already recommended this for my gifts under $50.00 2010 Holiday Gift Guide video, but I would be remiss if I did not mention it again for a perfect office or cubicle gift. Ergonomically designed so that you can get warm without it dragging on the floor, it is wonderful for the office. And it folds up so nicely, it can be stored in small areas. Carry it on the plane as well as a pillow option. Only $9.95 from DeskBlanket.com
This sliding card and photo holder gift is perfect for someone who has an office and wants to display their photos in a different way than a traditional frame. It's simple, yet definitely an eye catcher. $24.95, Red Envelope.
Cubicle Lawn's motto is "add some green to your box of doom". Just because you are stuck in doors all day doesn't mean you can't have a little nature with you. The Cubicle Lawn is a perfect patch of outdoors to add to your cubicle or office. It's indeed a unique and fun gift. Cubicle-Lawn.com, $7.99
I hope that you find these suggestions both fun and functional for your office or cubicle dweller. Let me know what you think of these gift ideas!
I, The Cubicle Chick, have not been compensated to review any of the items above. However, since disclosure is a must, I have been given several of these items for my honest evaluation and critique for consideration for my 2010 Holiday Gift Guide.