A wonderful pair of perfect fitting jeans are my most favorite fashion accessory. No matter the season or the haute looks on the runaway, jeans are always in style and fashion forward. And the fact that you can dress them up with a fly pair of heels or dress them down with some ballet flats means they are versatile and worth the money.
The folks over at YMI have come out with a line of 'Box Office' looks that were inspired by the looks in new movies such as No Strings Attached with Natalie Portman and Ashton Kutcher, The Roommate with Leighton Meester, and Camilla Belle in From Prada to Nada. What's more is these jeans won't break the bank and are made for long-lasting wear.
YMI 'Box Office' Cigarette Jean $38.00

YMI Jeans is currently giving everyone who purchases 'Box Office' styles on their site 25% off of their order. And in addition, when you purchase, you have a chance of "winning 1 of 5 double-pass movie tickets to see their fashion muse on the big screen". This fabulous discount is only good until January 31, 2011.
To learn more about YMI's  'Box Office' look, click HERE!
But you know I couldn't end this post without a giveaway, right?
You can win a pair of 'Box Office' jeans of your choice from YMI USA, just by doing the following:
Tweet "Twitter, @TheCubicleChick is giving away a pair of YMI jeans-http://bit.ly/e8hmE6"
Comment below to tell me what style of 'Box Office' jeans you like, and let me know you have done as instructed
Easy…breezy…
A winner will be selected on 1/31/11 after 6pm EST and they will contacted via Twitter. If the winner hasn't claimed their prize within 24 hours, another winner will be selected. This giveaway is open to U.S. residents only, void where prohibited. The winner will be selected by Random.org in order to keep the contest fair.
Check out the 'Box Office' looks by YMI here! Good luck!
YMI's 'Box Office' Classic Bootcut Jean $32.00


YMI Belted Khaki Cargo Jeans $38.00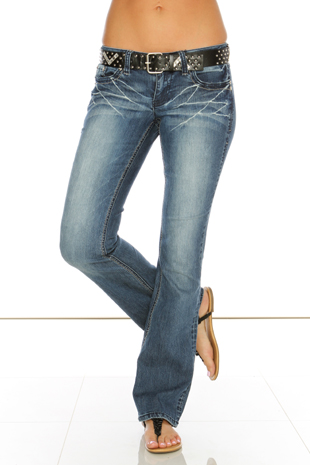 YMI Rhinestone Belted Bootcut $38.00

YMI Thick Stitch Rinse Bootcut $38.00

YMI Embellished Belted Bootcut $38.00