While I was here in Chicago, I decided to get a manicure since my nails were beginning to look worn and chipped. I purchased the Glee collection by Sephora by OPI while visiting the store, so I thought I would try out a new color for my manicure.
In addition, I have been having a hard time finding OPI's Shatter nail polish, but was able to find a comparable Crackle brand on Amazon. I thought it would be fun using the Crackle polish with the my new Glee colors.
The look was different, yet fab (at least I think so). The colors seen in the pics below are Express Yourself to Yourself and Mia Secret Crackle Nail Polish in black.
What do you think?
Glee's Express Yourself to Yourself by Sephora by OPI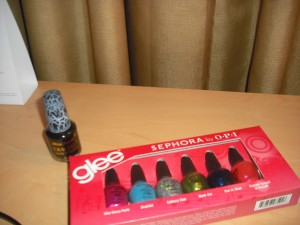 Glee collection and Mia Secret Crackle Nail Polish
Glee polish w/ Mia Secret Crackle
I apologize for the poor picture quality—I am dire need of a new camera. But I hope you are still able to see the finished look. I am not officially a Gleek!
I, The Cubicle Chick, purchased all items featured in this post. No freebies this time!