I missed last night's broadcast of the 17th Annual Screen Actor's Guild Awards, but the pictures tell the story of who was most fabulous and fashionable. I can honestly say I was very underwhelmed with the gowns I saw on the red carpet, but there were 5 standouts that are worth mentioning.
Here are my picks for the 5 Most Fab at the 2011 Screen Actor's Guild Awards:
5. Mila Kunis, Black Swan
I love this look—it's flowly patterned gown w/ belted waist is frilly, feminine, and very fab. Mila's makeup is simple yet captivating with a smokey eye and flesh toned lipstick. This is the perfect look for a dramatic dress that doesn't need many accessories to take away from it.
4. Amber Riley, Glee
I love, love, love Amber's gown. It can be hard to pull off a mermaid type of dress with a curvy figure but Amber pulled it off and then some. The makeup and hair are on point and the one shoulder halter approach and ruffled train with bows was something to behold.
3. Natalie Portman, Black Swan
Natalie Portman can't do any wrong, IMO. Even with child, she is glowing and fabulous in a silky sheath strapless gown that is simple but oh so glamorous at the same time. The chignon and simple makeup bring out the best in this look. And even with a little belly showing, Natalie is doing it!
2. Sofia Vergara, Modern Family
If I had a figure like Sofia, I would flaunt it too. Girlfriend is glam in a electric blue gown with deep neckline and fitted bodice. Sofia knows how to make a statement on the red carpet in a good way, and with curves for days, she makes heads turn. Love this look!
1. (Tie) Jennifer Lawrence, Winter's Bone and Julianna Margulies, The Good Wife
Actress Jennifer Lawrence's stylist is amazing. Jennifer was one of my 5 Most Fab at this year's Golden Globes and she is still making a name for herself on the red carpet by not being status quo. The color is divine and the black sash belt ties in the look. Giving em a little leg never hurt, either. I am anxious to see what Jennifer will be wearing on the Oscar red carpet.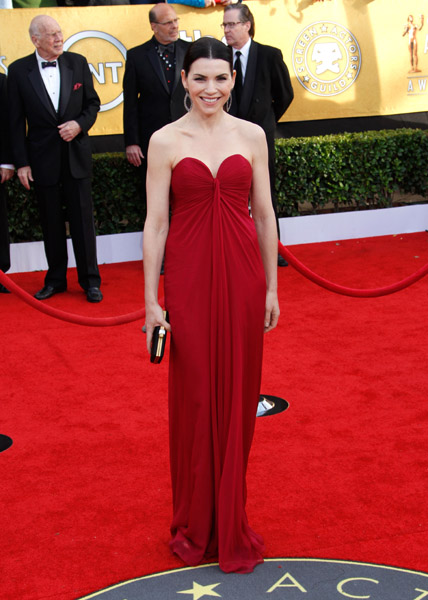 Julianna was red hot on the red carpet. The sleek and stunning red dress really showed off her best assets and the simple ponytail 'do really added to the look. It's old style Hollywood with a contemporary twist and it was simply gorgeous.