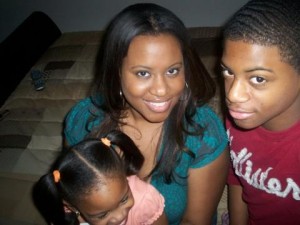 Seventeen years ago yesterday, I became a mother for the first time. I've been a mother longer than I have been anything else. When I first got pregnant at the age of 17 (I gave birth when I was 18), my family was none too pleased. I was supposed to be the one that would do great things—-the one who would become famous on television as a talk show host and therefore catapult my family to fortune and fame. All of this seemed within my reach when I graduated in 1993, but once I got pregnant a few months later, it didn't go over too well.
I knew I wanted to have my son—I didn't want to give him up for adoption or have an abortion. And I knew it was going to be hard being a single teen mom on my own but I had to try. I had to do whatever I needed to do for me and my baby.
So on Sunday, April 10, 1994 at 8:24pm, my son was brought into the world by Cesarean section. I hadn't held a newborn baby before. I had never changed a diaper or made a bottle. I was the only child so we didn't have a lot of babies around in our home. All of it was so new. But as soon as I saw his face, I fell in love with this little boy. And it's been so much love ever since.
Now he is 17 and almost a man. We went through a few rough years in the beginning. We struggled, ate spaghetti everyday, and lived in a one bedroom apartment for a few years. We didn't have a Christmas tree the first few years when he was a baby. But I did everything for him and he never wanted for anything.
It's so awesome to see him now. He's a handsome fella that really doesn't like the fact that his mom is young and sometimes passes for his sister. We don't always get along, but there is never any love lost. I want for him to be the best he can be. And in just one year, he will be embarking out on his own journey on his own.
He is my joy. Son, I love you.
My son when he was 2 months
My son's junior HS photo