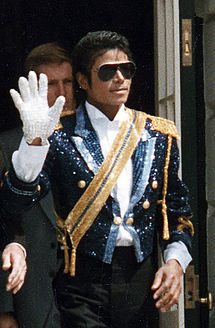 It is hard to believe that it has been two years since Michael Jackson died. June 25th, 2009 will always remain a sad and solemn day for me, as it was reported that the King of Pop was no more. Not wanting to believe that it was true, I waited for confirmation from a viable and trusted news source that what I was reading on Twitter was indeed fact. And even when I received the hard truth, it was a hard pill to swallow—he was gone too soon.
Michael was the epitome of an icon, yet he still remains a enigma. We knew that he was a talented singer, dancer, songwriter, and creative spirit. He was a loving father, a generous and kind soul, but he was also a guy who most couldn't figure out. His appearance began to make more headlines than his music did, and as the stories about his personal life trumped his vast and storied career, I didn't want his death to be marred by the circus freak show he became. I wanted to remember the Michael that moonwalked with a glittery glove, the guy who could make grown men cry when they saw him on stage.
I can't tell you when I first heard Michael's music, but I can tell you the exact day I fell in love with him. It was a hot day in February 1984 in Phoenix, Arizona where I grew up, and my dad bought me my own copy of Thriller. I listened to the album on repeat, feeling the music, catching his vibe, and memorizing the lyrics. That night, I slept with the album cover under my pillow as if some of his brilliance would rub off on me.
My father fed my Michael Jackson addiction by buying me posters, books, and other memorabilia with his likeness. For Christmas that same year, he bought me a painting of the gloved one himself and I hung it on the wall, crying with happiness because I was the only girl in the neighborhood that had a an actual Michael Jackson painting.
Then somewhere along the way, I began to notice Michael was different. His skin was now lighter, he seemed more paranoid covering his eyes with glasses and his face masks, and his handsome jawline and nose were now drastically different. I still loved him because it was about the music, but I couldn't help but feel that something wasn't right with my favorite performer of all time.
By 1991, my love for Michael had come full circle with the release of his Dangerous album. I was a fan again, doing the dance steps to 'Remember the Time' along with the video. He was still the King, and no one was touching his throne.
Child molestation allegations followed and so did reports of his drug addiction to painkillers. I never wanted to believe any of this, but I couldn't help but wonder where did the old Michael go? Did the media 'kill' him? Or was he turning into a Howard Hughes-esque celebrity that would have an unhappy ending?
On that June day in 2009, we found out how Michael's story would end. And even now, it still saddens me because his death could've been avoided. There are so many details we don't know, but what I do know is Michael would still be here with us today were it not for drugs.
I want to celebrate his life and his music, but there is still a pinch of sadness when I think about what could have been. Despite the Lady Gagas, Beyonces, Ushers, and other popular singers in our culture, no one will ever touch Michael Jackson. He was a a brilliant and amazing performer who inspired millions upon millions of people.
I'm still missing you, Michael.