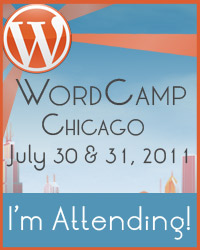 When it comes to WordPress, I am addicted. Soaking up as much information I can about this platform is something that I can't seem to get enough of, so I was excited to learn that there would be a Wordcamp in Chicago, which isn't too far from St. Louis (the St. Louis WordCamp is taking place next week while I will be at BlogHer, more on that later). WordCamp is "a gathering of all things WordPress" and includes sessions for users and developers. If you are a WordPress geek like me, then attending a WordCamp at least once should be on your radar.
This year's WordCamp Chicago (this is the 3rd year) will take place Sat., July 30th and Sun., July 31st. The tracks I am most interested in attending are the ones that are geared to those of us who are using WordPress for our businesses, and of course getting better SEO results for the information on your blog. Tickets for WordCamp Chicago were only $40, so it was worth the investment.
I will also be doing a little bit of sightseeing when I am in Chicago. I am taking my daughter and mother-in-law with me so they can enjoy the sights as well. I am looking forward to a weekend filled with learning, networking, and fun.