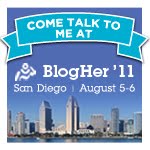 As some of you may have noticed, I am kinda sorta addicted to attending conferences and events, especially those of the social media and blogging persuasion. Blogging and social media have become my passion and I enjoy gatherings that celebrate the genres as well as encourage learning, networking, and growth. When it comes to conferences that involve bloggers, BlogHer is the epitome—it's the Super Bowl of blogging conferences for women, so not being a part of it can make you feel left out. Luckily, I am able to attend thanks to my sponsor, Chicalogic.
Chicalogic has been a huge supporter of my blog and I enjoy working with them on spreading the message about their products. Chicalogic is a Latina owned company that specializes in creating affordable technology products for women. Their Chica PC Fix helps speed up the performance of your PC and their Chica PC Shield helps guard your PC against spam, malware, and other harmful bugs. I have used both products on my Vaio and they have worked fabulously.
As Chicalogic is my sponsor for BlogHer, I will be at the conference working to get more bloggers familiar with the Chicalogic brand and campaigns.
This is my first BlogHer conference so I am incredibly excited. I have been trying not to get too overwhelmed, but I can't help but feel a sense of nervousness. I don't know what to expect, but I do know that if anything, this will be an incredible opportunity to connect with other bloggers, which is what I enjoy the most.
If you are going to BlogHer '11, let's make sure to connect. I will be live blogging, tweeting, and updating my Facebook and Google + regularly, so I am hoping to meet a lot of the people behind some of my favorite blogs.
BlogHer '11 takes place August 5th through August 6th in San Diego, California.
I cannot wait!