Now that the leaves are beginning to turn brown and the weather is cooling down, we are seeing signs that Fall is almost upon us. And the onslaught of Fall means that it is time to trade in all of those cute summer frocks for fabulous Autumn wears. This is something I look most forward to since the cooler weather gives me so many fashion options included boots, jeans, scarves, coats, and my favorite Fall item….The Blazer.
Why is it that a small jacket brings me so much joy? Well, it could take me several blog posts to list each and every reason but I can start with the fact that the blazer can take any outfit from zero to one hundred in no time flat. A blazer can take a simple top and jeans and transform it to something chic and stylist without spending a mint. And on top of that, it can allow you to utilize those cute summer shirts and tops by giving them long sleeves with the blazer. Layered looks are IN and complement most any figure, so having a few standby blazers can really make a difference in your wardrobe,
Here are three fabulous blazers that can make any outfit POP:
Signature Washed Linen: Boyfriend Blazer, $44.00, Spiegel.com
Gray and Black Cutaway Blazer, $58.50, Torrid.com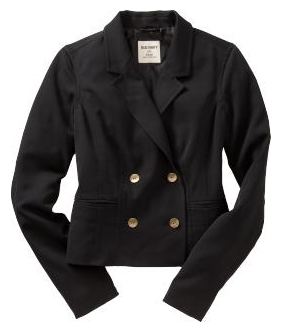 Old Navy Cropped Double Breasted Blazer, $29.50
What do you think of these blazers? And what are your most coveted fall fashion items?