When I received an invitation from Nordstrom to attend their Nordstrom Fits America event at the soon-to-be opened location at the St. Louis Galleria, I was game. The fact that they were going to have professional fitters there to measure me for my appropriate bra size piqued my interest. I haven't been professionally measured since 2007, and my "girls" have changed since then, if you know what I mean. I also wanted to see the new store before it officially opened to the masses, so attending the soiree was a no-brainer. I had to be there.
I learned from Oprah that most women are not wearing the right bra size. We have a tendency to wear our bras either way too big or way too small, causing a disservice to our bodies and our posture. Wearing the right bra can not only do wonders for the way you look (rid back fat, make your clothes fit better, et al) but can also improve your confidence. Knowing that you are properly fitting in something that you have to wear everyday is most important—-so why do we not take the time to make sure we are wearing the right fit bra?
When I arrived at Nordstrom, I was introduced to my bra fitter, Maggie, who was flown in from San Fransisco just for this event. She's the real deal when it comes to finding the right fit and right bras for her clients, and began her task of getting me measured and finding bras in the store that I would like.
Maggie also had the task of fitting one of my friends, Glamazini, a fellow blogger, who also made her appointment at the same time I did so we could get some bonding time in (yes, bonding over bras is a real activity!). Maggie hustled, going from her dressing room to mine picking out bras, checking the fit, and making sure that we not only felt fabulous, but we looked it under our clothing.
Maggie was most amazing!
I ended up picking up 2 bras, yoga pants, cami, tummy slimmer, and an awesome off the shoulder top that looks glam with a pair of jeans or leggings. My wallet was only so deep, so I couldn't get everything I wanted, but I will be back soon to get more bras. I feel like a million bucks!
Nordstrom's Intimates department will fit you at no charge. They also work to help fit women who have had mastectomy surgery and they also carry mastectomy bras. This is a great service for women who don't want to be fitted in a store, rather than a medical environment.
Check out some pictures from our day:
This was the place to be Saturday 🙂
Aren't they fabulous?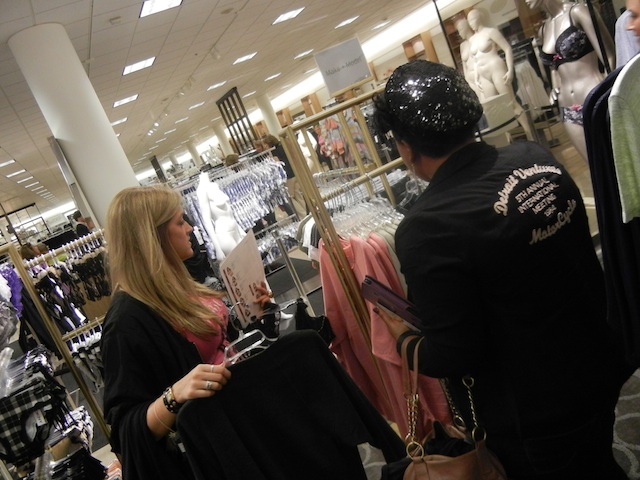 Me and Maggie picking out fab items (Photo credit, Glamazini)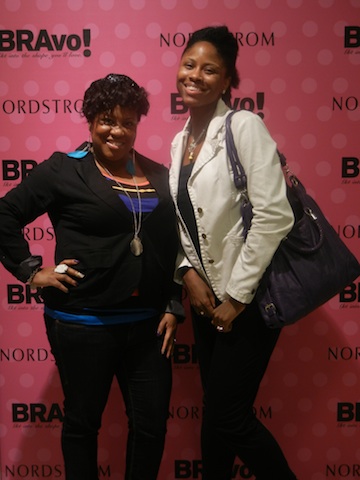 Me and Glamazini. POW! (Photo credit, Glamazini)
We also got to take home with us a fab gift bag stuffed with items like a stylish back clutch, straw handbag, a Hip-G, Honeydew nail lacquers, and much more. Nordstrom really knows how to treat a lady! The new Nordstrom at the St. Louis Galleria officially opens on September 23rd.
Thank you to Nordstrom for the invitation, and to Maggie for taking such good care of us today. We had a ball!
I, The Cubicle Chick, received 2 apparel items  from Nordstrom for attending their event and blogging about it previously. The opinions and statements presented in this post as always, are mine and mine alone.