You may or may have not noticed that Lush Fresh Handmade Cosmetics is one of my favorite brands when it comes to the body. I love their Emotibombs for the shower, and I have also become a fan of their Bath Bombs. While shopping for my Emotibombs, an employee at their Lush boutique encouraged me to try their Fresh Face Mask. I had been experiencing some breakouts during my monthly cycle, so she told me to try their Fresh Face Mask in Cupcake.
The Fresh Face Mask comes in a small container, and since it contains fresh ingredients like spearmint, Rhassoul mud, and cocoa powder, must be refrigerated within 4 hours after purchasing. It is also held in a makeshift "freezer case" in the store and is made fresh in the store.
The Fresh Face Cupcake Mask is for acne prone skin and helps to dry oily areas.  The directions say to leave on for five to ten minutes and then rinse away with warm water.
Let me say this—it smells just like a chocolate cupcake, almost so that it makes you hungry. It's amazing that the feel of it is like cold, chocolate, frosting, or icing. If you are a chocolate lover and on a diet, using this product may make you fall of the wagon, FOR REAL!
The consistency of the mask is a little difficult to deal with when cold and is really thick. I found it hard to apply evenly on my face. Once on, though, I could feel the mask working. Rinsing it off was a chore, though, and required several warm rinsings before my face was clear of the mask.
Beware at this next picture….
Kinda looks like I am in Blackface or something, doesn't it? As you can see, it is hard to get an even application of the mask because it is so thick. It also flakes a lot when it dries.
I have used the mask twice and so far, I have seen subtle results. The application and the rinsing isn't fun, but the mask smells so good and has improved my skin.
Lush has several different types of Fresh Face Masks for different skin types and skin situations. To check them out, click HERE. Lush's Fresh Face Masks are $6.95 for 2.1 ounces.
The masks come with a fresh seal on the bottom showing you when it was made (and by whom) and when it should be used by.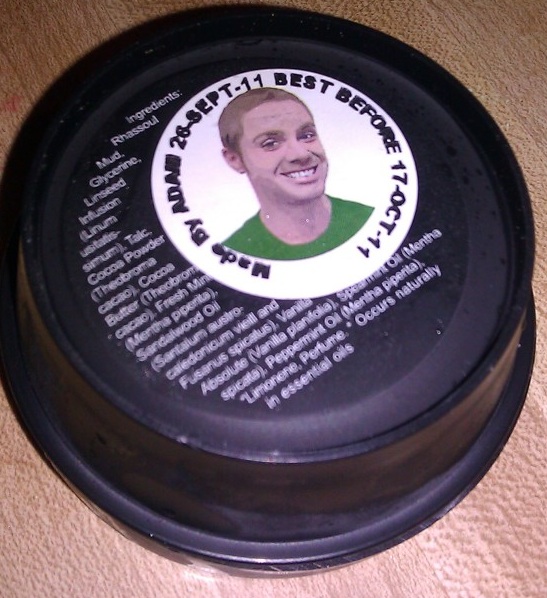 What do you think?
I, The Cubicle Chick, purchased the above item with my own funds. This is not a sponsored post, BUT, I will say I would love to work with Lush one day—I heart their products!