I am a big potato fan. Mashed, baked, diced, fried, you name it, I love it. I love to go to Granite City Food and Brewery (a restaurant here in St. Louis) just for their brunch, which boasts some amazing hashed browns. They are so good, so creamy, and so cheesy, that I used them to model a new hash brown recipe of my own.
Here it is….Cheesy Baked Hash Browns with Cream ala Cubicle Chick!
Here is what you will need (this recipe is for 4 w/ leftovers):
Two bags of Simply Potatoes Shredded Hash Browns
2 cups of Sharp Shredded Cheese
1 cup of Whipping Cream (to keep it light and fluffy. If you prefer heavy cream, you can use that instead)
2 tablespoons of margarine (or butter if you prefer)
2 tablespoons of salt (or to taste)
Pam No Stick Cooking Spray (not pictured)
1 cup of milk (2%) (not pictured)
1 medium egg (not pictured)
You can also add some onions and sour cream for more kick. My daughter doesn't like onions and my son doesn't like sour cream, so I didn't incorporate them into the recipe.
In a large mixing bowl, mix the hash browns and above mentioned ingredients with a large mixing spoon, making sure everything is evenly distributed.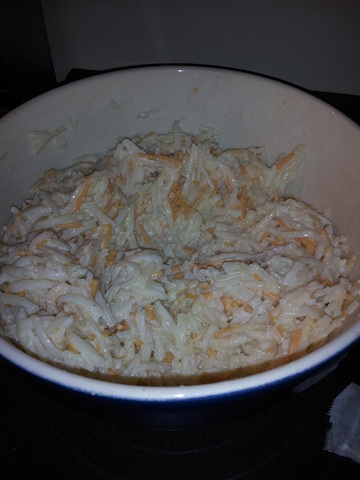 Spray a coating of the Pam Non Stick Cooking Spray (or whatever brand you prefer) on the bottom of a casserole dish or pan
Put the hash brown mixture in the casserole and smooth it out until it's even for even baking. Bake on 375 degrees for 30-45 minutes. Hash browns should be golden brown, yet creamy in consistency.
Serve and enjoy!
These hash browns are cheesy, creamy, and have a little kick to them. And they are pretty easy to make too! I will be adding this to my ever growing list of self-created recipes. I hope you like the hash browns!