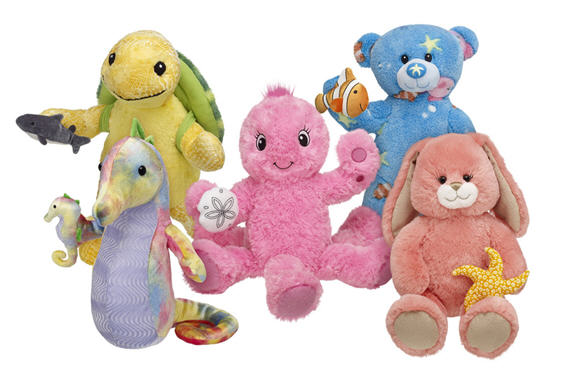 As one of Build a Bear Workshop's 15 Friends, I have been able to play with many of their furry animals. I am not sure who has more fun with Build a Bear—me or my 8 year old daughter. It seems that they always know how to create fantastic ways for our children to make their own friends, something that both me and my daughter appreciate and enjoy.
Last month, my daughter made an Octopus from Build a Bear's Under the Sea Collection. These are animals that are made with the sea in mind, and are perfect to take on trips to the beach and swimming pool. My daughter christened her octopus 'Octee', and she has accompanied us many places, including our community pool. Octee has become a part of the family.
You and your loved one can create their own summer memories by making a new furry friend at Build a Bear Workshop. I am giving away one (1) $20 gift card to giveaway to a lucky reader as a part of my '7 Days of Giveaways' here on TheCubicleChick.com.
To enter, you must:
One (1) winner will be selected on Monday, July 23rd after 6pm CST and announced on my Facebook page. This giveaway is open to U.S. and Canadian residents only, void where prohibited. I do ask that if you have won a giveaway of mine in the last thirty (30) days, that you not enter this one so that we can make sure that someone else gets an opportunity to win. The winner will be selected via Random.org.
I hope that you are having a fun and awesome summer with plenty of great memories.
Hot fun in the summertime!
In other news, here is a special video Build a Bear created called 'Shipping Out' for children whose parents are serving our country away from home. Please share this with your social networks if you can:
I, The Cubicle Chick, am one of Build-A-Bear Workshop's 15 Friends, a campaign created to celebrate 15 years in business and 100 million furry friends. I receive special perks for being a "friend" of Build-A-Bear Workshop. The opinions in this post are all mine.