Written By: VirtuousGlam Carlalee, Professional Hair Stylist & TheCubicleChick.com Health & Beauty Contributor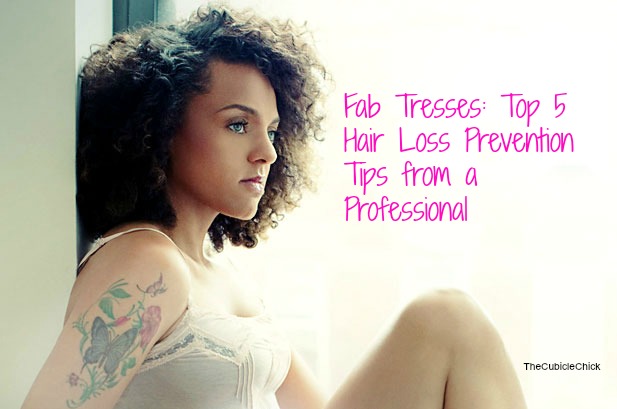 Well ladies, summer is winding down! With the weather changes that occur with a new season, it's vital that we take every precaution to keep our hair in top condition. So I've put together my top 5 tips for preventing hair loss and breakage.  I often get lots of questions from my clients about what they can do to get their hair to grow, but more importantly, how they can keep their hair from breaking or shedding. From diet to color care, these tips are sure to keep your mane looking its best!
1. If you are one who likes to color your hair, limit your coloring to once every 3 months.  Hair color contains very strong chemicals, which compromise the integrity of the hair.  Deep conditioning and protein treatments are also very important when using any type of chemical.  Also when washing your hair, use a gentle moisturizing shampoo that is sulfate free.
2. Avoid excessive sun and heat from hair dryers and curling irons.  Constant heat weakens hair proteins and can cause hair loss and damage. After you've gotten your hair whipped at your local salon, wrapping and pin-curling will help keep your curls in place without any added heat.
3. A healthy diet is essential for healthy hair.  Lots of water, lots of protein, vitamins A, B6, B12,C, iron, omega 3 fatty acids, zinc and calcium are all great additives for healthy scalp and hair.  No matter how many treatments or trims you maintain, good nutrition is the most important factor for healthy hair.
4. Too much tension or extremely tight pulling of the hair can definitely cause hair loss.  I know most of us have probably experienced this tragedy with braids. Now of course, braids and ponytails are an easy and low maintenance alternative, but always take a break from them and give your tresses a rest from the pick and pull. 🙂
5. Lastly but most importantly on this list….STRESS! A high stress life is a definite contributor to hair loss.  It can cause excessive shedding or hair to come out in clumps. NOTHING and NO ONE is worth your mental or physical health.  Live the most positive stress and drama free life that you can, and watch your entire life fill up with beauty!
And as always, let's continue to make sure that our outer beauty matches our inner beauty…XOXO