I have been utilizing makeup to give myself a more finished and "polished" look for some time. While I don't wear makeup every day, I would say that I wear it often enough that I am always looking for tips and techniques to help me achieve a haute look. As one of the world's most beautiful women, Kim Kardashian's makeup is always flawless. She achieves her high cheekbone and exotic look with the help with makeup contouring.
Contouring is a makeup technique that utilizes concealer to help change the shape of your face. It can elongate your profile, raise your cheekbones, soften, make your nose smaller, etc. When done correctly, contouring accentuates the positive attributes of your facial features and gives you a ready for the camera look.
Kim Kardashian took to her blog to show us how contouring gives her the look she is known for. The pro contouring was done by makeup impresario Scott Barnes, and he takes us through the contouring process with Kim, displaying how she goes from BEFORE to WOW!
Check out the pictures below: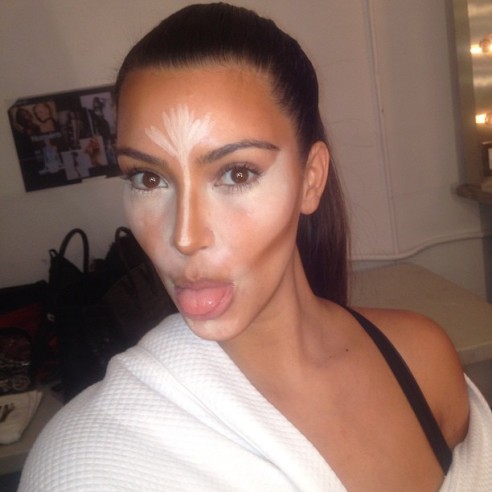 The final product is classic Kim. Cheekbones for days!
Do you contour? What do you think of Kim's trademark look?
Photo credit: Kim Kardashian