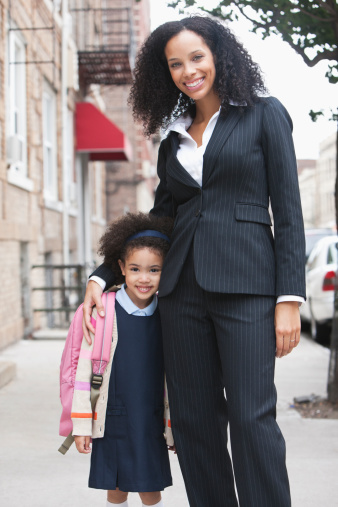 Being a working mom is the toughest job you will ever love. It takes a lot of love and hard work and discipline to be able to juggle your family with the stresses of the office or whatever workplace you happen to utilize. It may seem like there aren't enough hours in the day to get everything done, and you may even feel overwhelmed and under-organized.
Trust me, I know the feeling. But I also learned to make the most of my day and my time at home by delegating some activities and errands that will give me more minutes to add to my day—so that I can be a better mom more in tuned to what is going on with my family.
Here are 5 Ways to Add Minutes to Your Day:
Hire a Cleaning Service-
Hiring a cleaning service or a housekeeper isn't only for the rich. You can hire an inexpensive cleaning service for your home for as little as $85 per cleaning, which for me, is well worth the investment. I currently get my townhome cleaned bi-weekly by a professional licensed and bonded cleaning company chain, and I take care of my home in between cleanings. Having a cleaning service taking care of the deep cleaning of my home gives me time to get other things done. And since cleaning my home has never been fun for me, it's one less thing I have to do.
Personal Assistant, Anyone?-
You may not be able to afford an actual personal assistant, but there are services out there that will act as your personal "concierge" without a heavy fee. I came across Time Dog at a conference I attended earlier this year, and signed up on the spot. Time Dog acts as your very own "virtual personal assistant". Time Dog will help tackle the items on your to-do list virtually, and they are just a phone call or email away. They can help you with travel arrangements, look up phone numbers, handle purchasing that gift for your Aunt, and so much more. These "little" things can add up to many hours during the day, so for a small fee, you can free up your time and let someone else do the work.
Prioritize-
Many of us waste time because we don't prioritize. Having a prioritized list not only helps me stay on track each day, but I feel less stressed out because I know everything I need to do before I need to do it. You can use apps on your smartphone to help you schedule your day, or even use Google Calendar, which will also send you an alert and remind you when you need to do something that us on your schedule.
Ask for Help-
Okay, mom, admit it. You don't like to ask for help. Neither do I! But sometimes, having help is the best thing we can do for ourselves. I have gotten better at asking my other half to help me with our daughter, or asking a family member for assistance when I need it. I travel a lot, so if it weren't for my family and them helping me out, I don't know what I would do. Don't be afraid to ask for help. No one will judge you if you do so. And you will be better for it.
Chores-
My 18 year old grew up doing chores, and now my 8 year old does them too. I run my home by the adage that it is ALL of our responsibility to make sure that our home is clean, safe, and well-running. Which means everyone has to chip in. My daughter is responsible for cleaning her room and collecting the trash cans and emptying them into the bin. My son is responsible for rinsing the dishes and loading them into the dryer, setting the trash out to the curb on trash days, and keeping his room clean. Believe it or not, these chores take a lot off my plate and gives my children a sense of work ethic at the same time.
+1 Extra: Grocery Delivery Service:
I absolutely loathe grocery shopping. There are several services in major cities that offer home delivery for groceries, freeing up your time for other things. You can check out Peapod (which I've personally used and LOVED), and Schwan's.
Yes, we do it ALL. But there is nothing wrong with utilizing a few shortcuts and getting help when needed.
Moms, what are some ways you add minutes to your busy day?