It's a known fact that I wear weaves. I actually love rocking sew-ins as of late because I am transitioning from relaxed to natural hair, and a sew-in gives me the ability to rock different styles as I go through this process. A few weeks ago, I was contacted by Luxe Therapy about their Scalp Soother, which is a comb that helps sooth your scalp between the braids and wefts of a weave.
We've all seen (and done) the whole "pat your weave" thing as we are trying to get scratch and rub our scalps while wearing a weave. Not only is it annoying, but can be rather unpleasant when you are out and about. The Scalp Soother is a comb that you can keep with you that gets to the "root" of your itchy scalp. I've been using it for several days now, and let me tell you, I am hooked.
Not sure why someone hasn't thought of this sooner.
Here are more details about the Luxe Therapy Scalp Soother:
Patent-pending hair comb is ergonomically designed to conform to the shape of the head
Effortlessly soothe and massage the scalp without affecting your braided base, net, or extensions
Reduce irritation and stimulate hair growth by promoting blood flow to the scalp
Safe alternative to using pointy objects to alleviate "weave itch" (this can injure the scalp and cause hair follicle damage!)
Can be used on natural hair, including Type 4 (kinky) without disturbing hair styles
Flexible, yet sturdy base that is guaranteed not to break
The Scalp Soother retails for $10.00 and can be purchased online. It features a patent pending design that really soothes the scalp. I am a believer!
Luxe Therapy also creates other products for the hair that are natural, vegan, and organic. I also tried their Follicle Food Scalp Treatment, which is wonderful keeping the scalp fresh and clean.
Visit Luxe Therapy to purchase your Scalp Soother, and check out their other products.
Before: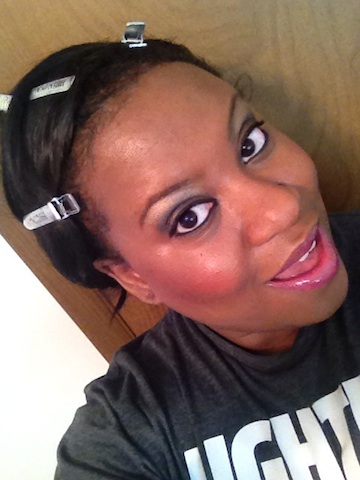 After:
Disclaimer: I received free products in exchange for this post. This is a true review of my thoughts and feelings about this product, and this is not a paid or sponsored post.