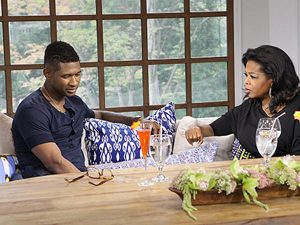 Singer Usher Raymond has been in the headlines a lot lately.
After his tumultuous marriage to Tameka Foster, their divorce made way for a major child custody dispute in which he recently was granted custody of his two sons with Foster. Usher and Tameka's entire custody court proceedings was reported on daily by the blogs and major news outlets, so high profile doesn't even begin to describe this entire matter. Add to that, Tameka lost her son in a jet ski accident in July, and it's really been real life drama for the entire brood.
Usher has been relatively quiet about all of these issues until he sat down recently with Oprah for her Next Chapter series on OWN. Usher rarely grants in-depth interviews of this magnitude, so this goes to show that Oprah is one of the few people who have access to major celebrities. First Lady Gaga, then Bobbi Kristina, Paris Jackson, The Kardashians. Rihanna, Jennifer Hudson, and now Usher (hmm…I wonder if Chris Brown will be next?).
During the interview, we will get to know from Usher why he decided to go after getting full custody of his kids. We will also get to hear from Usher's mother, Jonetta Patton, who was Usher's manager until his relationship with Foster got serious. It will be interesting to hear from Mama Usher, who also has been pretty much mum to the press regarding her and her son's current "good term" status. Everyone knows Usher's mom wasn't fond of Tameka, so this interview will be pretty darn interesting.
Oprah's sit-down interview with Usher will air on her OWN imprint on Sunday, September 16th at 9/8pm CST.
I know I will be watching!
Check out a sneak peek at the interview below: