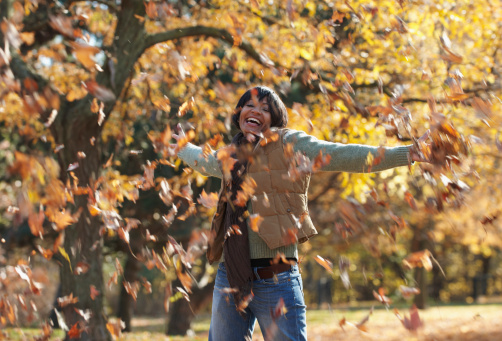 I feel like I'm falling for Fall! Fall has been my favorite season since I was a little girl. There's something about it that gets me excited about life. It could be the mild weather, the shorter days, or the beauty that it brings to the Midwest. Whatever the case, I am a sucker for autumn and can't wait to say goodbye to summer officially in a few days.
Here are 10 reasons why I love Autumn!:
Shorter Days: Who doesn't like to get an extra hour of sleep? During autumn, the time goes back an hour which means we lose an hour of daylight but get an extra hour of rest. As someone who loves to sleep, that extra hour does my body good. Daylight Savings Time this year is Sunday, November 4th at 2am, so remember to set those clocks back.
Fall fashions: Fall fashions are oh so fabulous—boots, sweaters and cardigans, jeans, blazers, layering. All of those fashion and style items makes a girl like me happy. I just love it! Want to see what this year's Fall fashion trends are hot? Check out this article by my Fashion Contributor Coco Michelle.
Fall food and drinks: Hot apple cider, pumpkin coffee, beef stews. With colder weather comes hot drinks that are so delish. It's also the type of comfort food to bond with others. I do most of my entertaining in the Fall and Winter months, and food is a big part of that.
Fall TV Season: With Fall comes new episodes and premieres of new and returning shows. I am looking forward to seeing a new season of Scandal and Revenge. And new shows like Nashville and 666 Park Avenue have me cueing my DVR. See more of my 2012 Fall TV favorites HERE.
Fall Leaves and Colors: As a Midwest girl, we get to see all of the seasons here. In my opinion, St. Louis is the most beautiful when the leaves are orange and red and brown and the landscapes are so amazingly serene.
Cuddle Weather: I'm a girl! Who wants to cuddle when it's hot?
Christmas preparedness: Christmas is the most wonderful time of the year. And during the Fall is when we as a family start to prepare for the holiday season. I love going to the stores, buying items for our tree and to decorate our home. My daughter loves it too, so it's a great way for us to bond.
Black Friday: I am a sucker for good sales. And Black Friday is the coup de gras of shopping sales. Yes, I'm that crazy girl that is in the line after eating Thanksgiving dinner, waiting for the stores to open at midnight.
Fireplace: I love making use of our fireplace in the living room. There's nothing like it. It really makes our home feel like a home.
Family: I travel a lot all year 'round, but usually on business and without my family. During the Fall and Winter months, I tend to travel more with my family to visit family in other cities and states. There is nothing like the family bond.
Fall is almost here! Got to love it!
There are also several things you should do to get your house and life ready for Autumn. Check out my article, 8 Things You Must Do to Prepare for Fall, for a great checklist of things you can do to get ready for the Fall.
Are you ready for Autumn?