As many of you already know, I am all about fabulousity! So when Soft Surroundings contacted me to review their new Renewal Room within some of their stores, I responded with a resounding yes! Soft Surroundings is a fabulous fashion, beauty, and bedding store located here in St. Louis, as well as Denver, Kansas City, Dallas, and more! They are also known for their catalogs that offer everything from sheets, comforters, clothing, beauty items, decor, etc.
Soft Surroundings is elegant, yet quaint and affordable. I have visited their store a few times in the past, and was excited to find out that they were offering spa services such as facials, massages, and waxing. The Renewal Room At Soft Surroundings is a wonderful place to "renew" and "recharge" during a busy day, and since it's located inside their store, is also a reason to check out the wonderful items they have to offer.
I indulged in a Custom Facial that was created by my Renewal Room esthetician, Terri Tatum, for my individual skin needs. Because I have oily skin that is acne prone due to hormone changes, she picked out items that would help soothe, repair, and renew my skin.
I go to a lot of spas, but what I especially like about the Renewal Room at Soft Surroundings is that during your session, you are the only one using their room. The bathroom and the spa room are dedicated to you and only you during your visit, so it is very relaxing. No need to stress out about putting your items in the locker and remembering your key or code. And no walking around in a stuffy robe. The bathroom and changing area is located within the same room you are having your services in. So it's stress free and feels exclusive.
The room is set up like most spa rooms with all the needed equipment a skin therapist may need. Soft music plays during your service and the lights are turned down low for your comfort.
Terri did a fabulous job during the facial and dozed off a couple of times, I was so relaxed. What also impressed me was her extraction technique. If you have had a facial before, then you know how painful extractions can me. I felt no pain during the extraction process.
I also liked how well versed Terri was during the facial. She made me feel comfortable, allowing me to relax, but also letting me know each step as she was doing it. She also showed me all of the products that she used on my skin during the facial, and I was able to purchase a few because they were also sold in the store.
I would give very high marks for the Renewal Room at Soft Surroundings. I personally loved the attention and treatment I received and will be coming back again for another facial and perhaps, a massage.
Below are a few pictures that I managed to snap during my visit: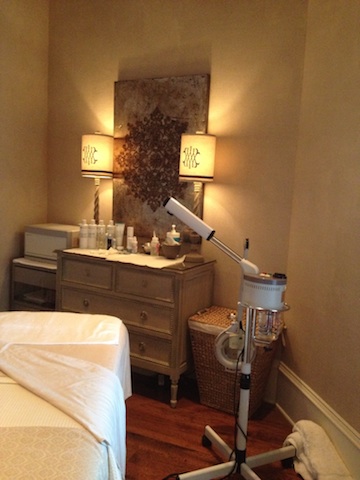 The Custom Facial which I received at The Renewal Room at Soft Surroundings is $80.00. To learn more about The Renewal Room, click HERE.
As a Cubicle Chick that is always on the go, I highly recommend The Renewal Room for your next spa service.
I, The Cubicle Chick, received a complementary facial at The Renewal Room at Soft Surroundings in exchange for a review on my site. All opinions and views in the above piece are mine, and have not been swayed by any free service(s) I received.