This Summer, we brought you our Summer Wedding Series. We are continuing the series into Autumn with great wedding tips, ideas, and information to help you throw a fab Fall Wedding. Here is Part 3 in our series!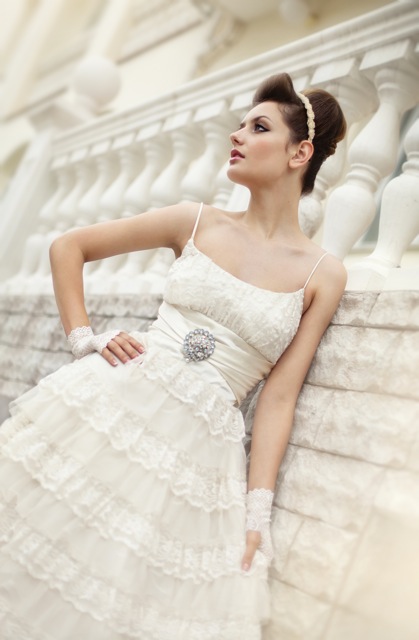 Vintage themes for weddings are popular because of the romantic, classic feel they evoke. They're especially conducive to fall ceremonies since the rustic ambiance of changing colors and warmer lighting is inherently amorous.
Before diving into the world of antiques and lace, start by setting a budget and planning your expenses so you're not left with a bill you're still paying when the wedding itself turns vintage. Here are several ways to incorporate a romantic look to your wedding on a practical budget.
Color palette generator. A solid vintage wedding theme begins with color scheme. Thankfully there are some fabulous, easy-to-use online tools you can use to create a color story with your wedding. Start with a site like Colourlovers.com and search for "vintage." Once you've found your inspiration, head over to Sherwin-Williams' color tool call Chip It! to translate any picture into matching Sherwin Williams paint colors.
Go Great Gatsby. The Great Gatsby is a classic novel by F. Scott Fitzgerald set in the Roaring 20s, and is now a film starring Leonardo DiCaprio. Vintage-loving brides can pull plenty of wedding inspiration from the look and feel of this film, and already we're seeing '20s styled dresses and accessories, like these Great Gatsby-inspired headbands. Continue the literary theme by using vintage book paper as a table runner, or attached to a board as a backdrop.
Attire. Lace, pearls and feminine necklines are go-to components for vintage-inspired wedding dresses. In addition to bridal boutiques, search women's department stores for affordable options. Ann Taylor, for example, has a beautiful embroidered lace gown available for less than $1,000. Register for gift cards through CardAvenue.com and allow your guests to help you offset the cost of your dream gown.
Doilies and lace. Vintage weddings make good use of doilies and lace. Don't go overboard, but use them as strategic details to pull your theme throughout your wedding. Buy paper doilies in bulk and use them in a variety of ways: wrap your invitations with them and tie with a ribbon, fold in half then sew them into bunting on twine or jute, or use a backdrop, or line your serving dishes. Spray paint paper treat bags using the doily as a stencil then fill as the last delicious detail guests can take home.
Spray paint. Collect an assortment of candle sticks, glass vases and other decor (think gourds or decorative fruit!) and unify them with spray paint. Embrace the latest fall wedding trend and use metallic colors with pops of deep hues like berry or emerald green. Whatever your color palette, spray paint is a cheap and easy method to coordinate your wedding decor.
Mason Jars. Throw a twist on mason jars at a wedding by painting them for a dated look. Use vaseline on the embossed parts (like the name of the jar), then wipe off that area to create a vintage, distressed look. Insert a bunch of baby's breath and you've got an instant vintage centerpiece. Flank with votive candles wrapped with a paper doilies.
Chalkboards. Chalkboards are everywhere, and they add a fun element to wedding day signage. Pull it into the vintage theme by painting an aged-looking frame the color of your wedding, then paint over the glass with chalkboard paint. Use big ones for directional signs, or small ones for place cards or menus.
Homemade. A vintage wedding naturally lends itself to homemade touches, and nothing says "homemade" like dessert. Pies continue to be a big trend in weddings this year, and local vendors are making it easier to find baked goods with that down-home taste.
Music. Don't just decorate; set the right mood with a vintage record player and vinyl records. Whether it's oldies, Rat Pack or classical, your choice of music will complete your theme and put a smile on your guests' faces.
—-
Weddings expert Cara Davis is the author of Cheap Ways to Tie the Knot and blogs from her home in Nashville, Tenn., about cheap ways to spend and save at CheapWaysTo.com.
For more information, to book a segment, or arrange an interview, email Cara Davis at cara@cheapwaysto.com.