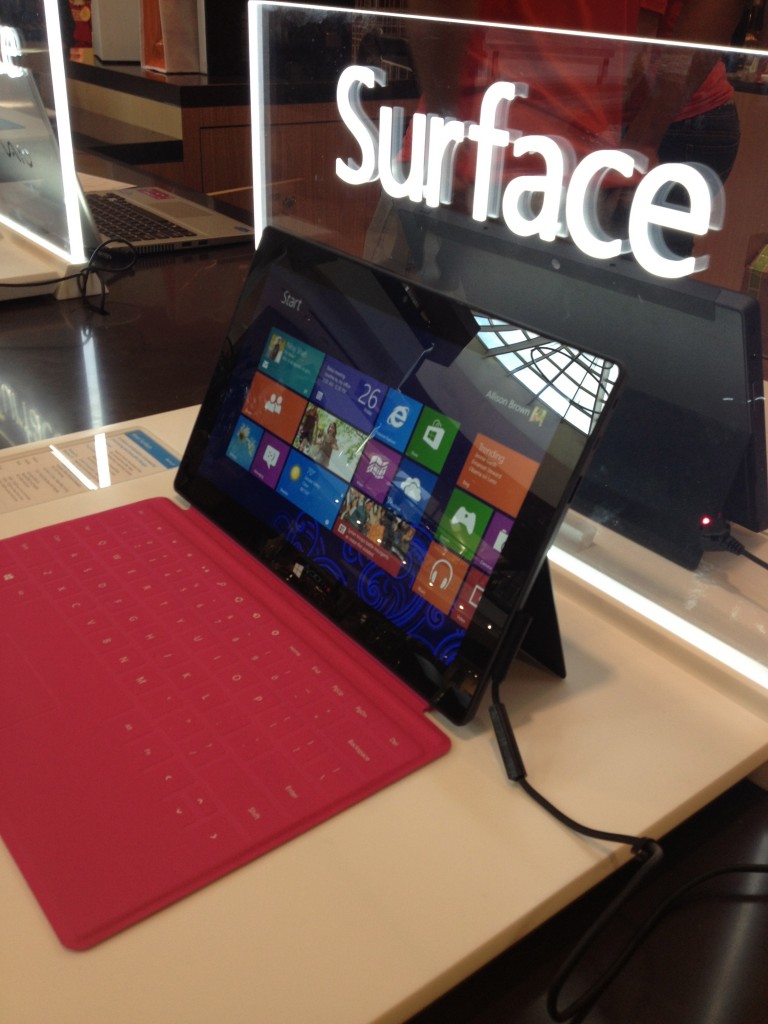 On Friday, October 26th, the world was finally able to get their hands on 2 highly lauded products from Microsoft. The first being Windows 8 and the 2nd being their Surface tablet, which is supposed to change the game of the way tablets perform. I was invited to the opening of the new holiday Microsoft Pop-Up Store located in the Saint Louis Galleria, and was excited to get to try out the Surface tablet for myself.
As an iPad owner, I have enjoyed the userbility of the tablet, especially on the go. But I am not a brand loyalist, and will try other tablets to see how they measure against it. I am a firm believer that if something works well and efficiently, I will purchase it, no matter the brand. With technology, I keep my mind open.
These are the features I liked most about the Surface tablet:
The ability to produce documents on the tablet using the already installed Microsoft Office Suite with Word, Excel, and Power Point.
The ability to multi-task by having different windows or tiles opened or pinned.
The screen size is great real estate and is longer than the iPad.
2 wifi cards give you more power to surf the web and work online.
Long battery life (according to one of the reps, you can watch 5- 2 hour movies on the Surface tablet before the charge will go out).
Lightweight and sleep design. Feels good to use in my hand.
Built in kickstand to hold up the tablet (no need to buy an accessory for it, since it comes standard on all Surface tablets).
The ability to write (yes use your finger) on the screen to write and take notes (which will then be transcribed and changed to typed words on the screen).
I can say that I was pretty impressed with Microsoft's offerings with the Surface tablet.
Below is a demo featuring Steven from the Microsoft Store showing me a few features of the Surface tablet: