Last year, I fell in love with Pear Tree Greetings. I created a wonderful ornament gift card that ended up being one of my favorite personalized holiday cards, and I am using them again this year to create our 2012 holiday card. And it's not just about the fabulous quality that Pear Tree Greetings offers its customers. Their quick and responsive customer service alongside their fast shipping that had me at HELLO. And I am so pleased that I can offer you, my readers, the opportunity to try Pear Tree Greetings yourselves.
I am giving away a $25 credit to Pear Tree Greetings. You can use it to create personalized holiday cards, personalized storybooks, or personalized stationery. Whatever is on your wish list, Pear Tree Greetings can create it for you!
Pear Tree Greetings has some of the best creative options and templates to create holiday cards and gifts. I love that their cards are unique and fun and not your run of the mill designs. If you are into traditional cards, Pear Tree has your back on that as well. And if you are looking for designs that recipients will love and remember, they also have those as well!
If you are making your personalized holiday card, Pear Tree Greetings has some advice for you: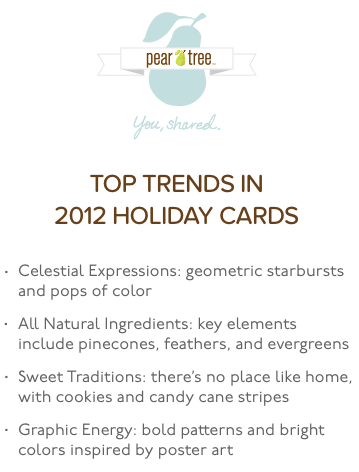 Here's how you can enter to win a $25 credit for personalized items on Pear Tree Greetings:
Follow The Cubicle Chick on Facebook
Follow Pear Tree Greetings on Facebook
Leave a comment below letting us know what you want to create with Pear Tree Greetings
That's all, folks!
One (1) winner will be selected at random and announced on my Facebook page. This giveaway ends on Dec. 4th, 2012 at 6pm CST, and is open to all of my readers in the U.S. and abroad, void where prohibited.
What will you be making this holiday with Pear Tree Greetings?
Make sure to connect with Pear Tree Greetings on their social networks:
Pinterest
Twitter
Facebook
Google+
Blog
Disclaimer: I, The Cubicle Chick, received a credit in return for this post. This is not a sponsored nor paid post and all opinions listed above are mine and are not indicative of the brand.