I am all about making my house festive and inviting for the holidays. I also like to get my hands dirty by creating things and making crafts and items that everyone can enjoy. Besides purchasing gifts and preparing holiday meals, getting my home ready for the the most wonderful time of the year is what I like to do most. It's also something that I can do easily with Martha Stewart Crafts.
I was sent a slew of items from Martha Stewart Crafts to help me entertain, give, and decorate for Christmas. I wanted to share with you just how easy it is to create a little bit of magic for the season in your own home—and you can even give this magic to someone else as a gift or party favor if you plan on having a holiday event in your home.
Here's what I used to create my own magic from Martha Stewart Crafts: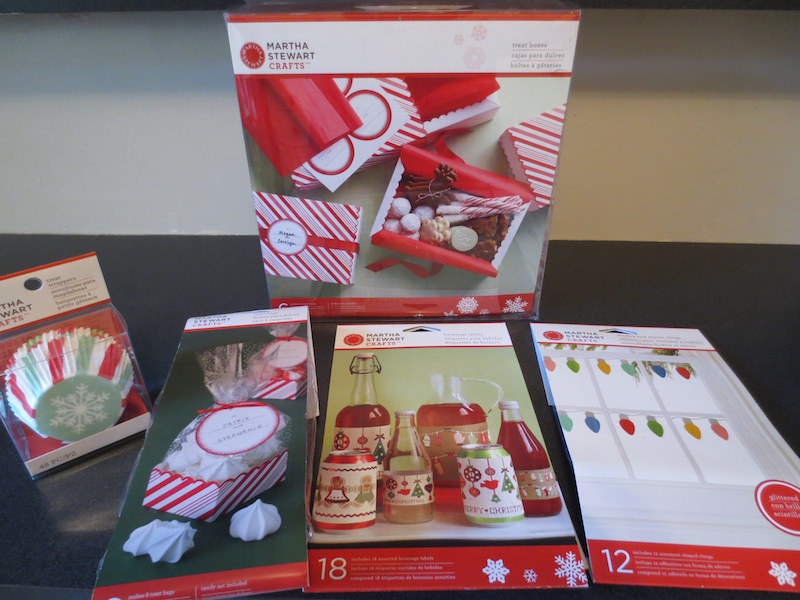 Martha Stewart Crafts Window Clings
Martha Stewart Crafts Garland
Martha Stewart Treat Boxes
Martha Stewart Treat Wrappers
Martha Stewart Beverage Covers
Let's begin!
Martha Stewart Holiday Garland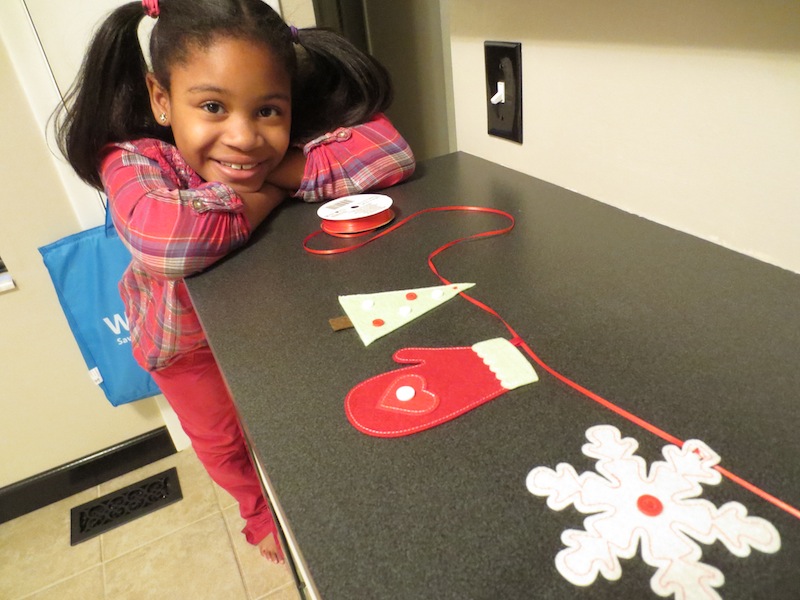 This is a fun project that the kiddies can do. It comes with everything you need including fabric shapes for your garland and the string. The Chicklet worked hard on making her garland, which we wanted to put above the fireplace. We did have a problem untangling the string that came with the kit, which was knotted up (you know 8 year olds have no patience), so we ended up using a thin ribbon from another project to complete the garland. Here is the end result: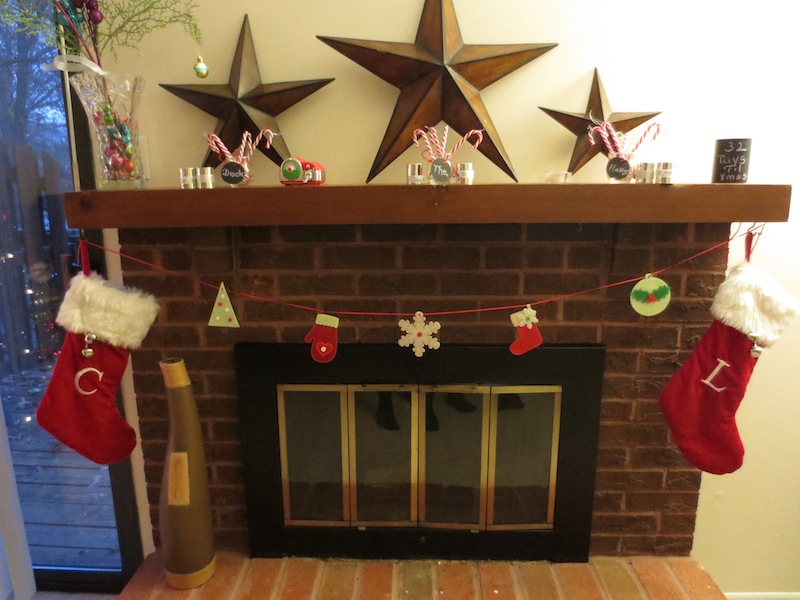 ————————————–
Martha Stewart Crafts Holiday Window Clings
Dress up your window or mirror with these festive holiday window clings. You can peel them one by one and string or decorate them in anyway you like. I chose to string them like Christmas lights for my window in the kitchen that faces our porch. The clings are glittered as well to add a little more pizazz and fun!
And since I am a repurposing queen, I chose to use the peeled off backs of the "lights" for gift tags. Simply punch a hole through them and add a decorative ribbon and tie them on a gift. Voila!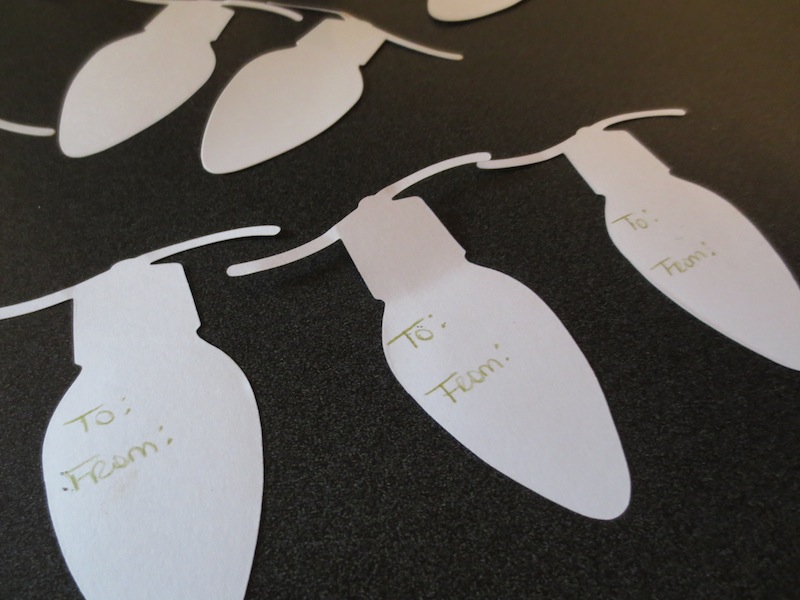 ————————————–
Martha Stewart Holiday Treat Boxes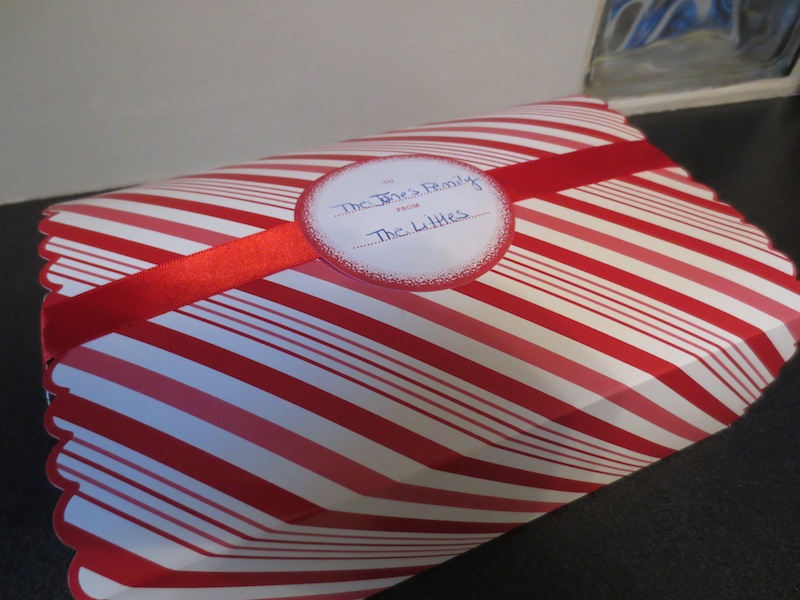 These boxes are pretty much ready to go! Just pop the box in place and add the tissue paper, fill the box, and then seal with label and ribbon. Everything you need comes in the kit, and it's something you can do in no time at all. Fill the boxes with treats for guests, a gift for neighbors, coworkers—whatever your pleasure. The end result is a package that looks like you spent hours!
————————————–
Martha Stewart Crafts Holiday Treat Bags
These bags come ready to assemble and pop in place just like the treat boxes above. Martha Stewart Crafts Treat Bags are perfect for holiday parties and favors. Give your guests the gift of candies, popcorn, nuts, a little of everything! The boxes are small, but deep, and can fit a lot of small items. This is also a craft that you and the kids can do together.
————————————–
Martha Stewart Crafts Holiday Beverage Covers
Spruce up the look of your sodas, bottled water, and pitchers at your holiday soiree by adding these cute and festive holiday beverage covers to your drinks. The covers are easy to apply—just peel and cover. Your guests will remember this added touch, and you will look like you really put in a lot of work!
————————————–
To learn more about these Martha Stewart Crafts for the holiday, click HERE! Special thanks to EK Success for sending me these wonderful crafts, which I will be using to entertain.
What do you think about these crafts?
I, The Cubicle Chick, received the items above to review on this site. This is not a sponsored nor paid post and all opinions expressed are mine.