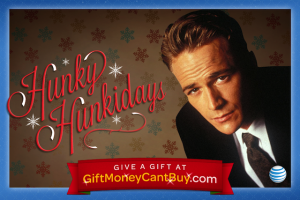 With only 12 days left until Christmas, many of us are scurrying about making sure we secure the perfect gifts for our loved ones. It can be a hectic time, but it's most important to remember the reason for the season. Christmas is not just about purchasing gifts— there are plenty of gifts that money can't buy.
If you have teens, they probably want to get you a gift, but may not have the money to do so. Now, they too, can give a gift without spending anything!
AT&T started a campaign to spread holiday cheer in a fun and exciting way. They've launched "A Gift That Money Can't Buy", which will allow your teen to send these specialized gifts to their parents. Your teen can select from the following gifts:
– A Very, Very, Very Personal Greeting From Luke Perry
– A Guitar Solo from Richie Sambora
– A holiday feast prepared by celebrity chef Michael Voltaggio
– A joke handed down from comedian Richard Lewis
– A cameo in this month's "The Onion"
Your teen can send this gift virtually via Twitter, Facebook, or email. It's a fun and interactive way for your teenager to show someone that they care. And yes, it's kind of cool too!
In addition, each week during the holiday season, AT&T will update their Gifts That Money Can't Buy website with new gifts. Surely, the teen in your life will like at least one of the options on the Gift That Money Can't Buy portal.
And if you are looking for a great phone for your teen (or for you), check out the Nokia Lumia 920 Windows phone. I will be reviewing it in the next week or so and giving you my tips and feedback on why I think this phone is perfect for everyone—including teens!
Check out this video which features a rocking guitar solo by Richie Sambora, just one of the gifts money can't buy!
Disclosure: TheCubicleChick.com received compensation in exchange for this post. The opinions within this post belong to the publisher and is not indicative of the brand and/or company listed.