With the influx of the holiday season brings a little bit of the holiday magic usually inspires us. If you are a nail enthusiast like myself, then you may appreciate a little nail art that is creative and inspired by the holiday season.
During the holidays, I usually keep my nails in a festive design. I've tried to do my nails myself, and haven't had very good luck in the DIY department. But now with all of the glittery nail polishes and nail textures (like Ciate Caviar, magnetic polishes, and Nails Inc. 3 D nail color), you can create beautiful holiday inspired nails without being a pro.
For example, my nails are currently painted with Nail Inc.'s 3 D Nail Polish (in Covent Garden Market). It came in a 3-pack called, The After Party, which can create dynamic and festive holiday looks for the season. And it's very easy to do!
These are my nails with 2 coats and a top coat of clear polish. Perfect for Christmas and all it took was a few coats of polish since the "paint" did all of the work:
A very good friend of mine (we go all the way back to high school), Kiisha, is currently going to school to become a nail technician. She is always sharing pics of her wonderful and fabulous nail creations on her Facebook and Instagram, so I asked her to make a few custom nail designs that are holiday themed that I could share on this site.
What she came up with was an imaginative take on the season—nails that truly represent the most wonderful time of the year.
Here are two Holiday Inspired Nail Designs created by Kiisha Hull:
Chubby Santa Belt
Created with L.A. Red by Tammy Taylor. Black polish is Black Heart by Sally Hansen. And the gold buckle is Goldeneye by OPI.
 Oh, How I Wish It Would Snow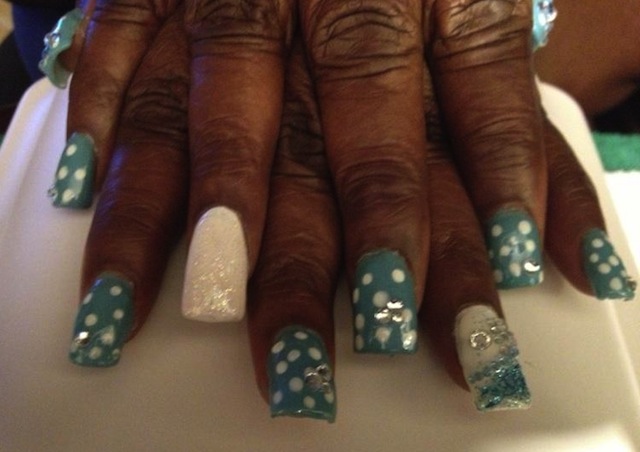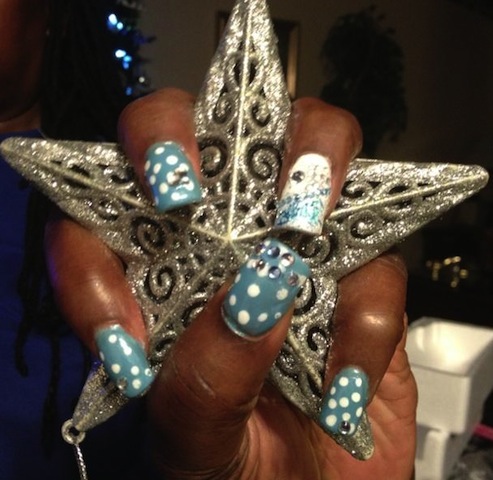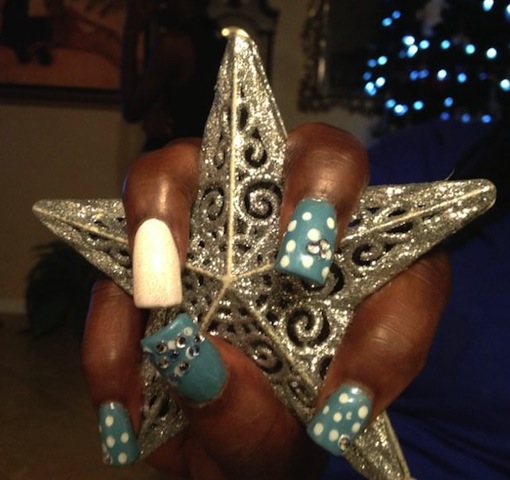 Created with Breakfast at Tiffany's by Tammy Taylor, Snow Me White by Sinful Colors, and Hallucinate Sparkle Top Coat by Wet 'n Wild
Tips on doing your own DIY holiday nail design:
If you are going for a more intricate design, sketch it out first on paper and try on one nail before doing them all
Select colors that are holiday-esque. Reds, greens, and golds work best. Also blues, silver, anything shimmery
To remove tough glittery polish, click HERE to read Glamour's easy breezy glittery polish how-to that takes off glittery and dark polish with one swipe
Buy mini lacquer sets that gives you maximum designing options and colors
Purchase small, thin brushes at the craft store. This will allow you to add more color and definition
Have fun with it
Whether you are doing your nails yourself, or have them done professionally, 'tis the season for holiday inspired designs!