A few weeks ago, I received a HTC One X Android device as a member for the TroopOneX review team. While the screen real estate and Beats Audio were some of my favorite features of the phone, it was the camera that interested me most. Most everyone agrees that the HTC One X takes some pretty good pictures in low light, something that intrigues me because I am always attending events where there isn't a lot of light. Having a camera that could produce some high quality shots for my blog in low light made me really want to test it out for myself.
The opportunity to take some photos with the HTC One X in low lighting came a night or two ago where I attended the 3rd Annual RFT Clique and Point Web Awards, where yours truly was a finalist for the "Best Use of Twitter for a Personal Brand" category. And while I didn't win (womp womp), I still got to take some pictures with it while at Off Broadway, a nightclub venue where the event was being held.
The verdict? Yes, it took good photos in low light with the flash used. In comparison to my iPhone, the photos were a little more vibrant and crisp.
Check out the photos below for yourself:
Me on the big board with the other nominees
With my girlie Allison Babka
The crowd at Off Broadway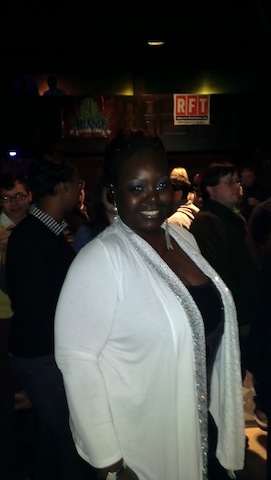 @Uncommonchick came to support!
My take? The HTC One X is a fabulous device for heavy picture takers. I am quite impressed.
Disclaimer: TheCubicleChick.com received a HTC One X as part of being a member of the TroopOneX review team. All opinions expressed, as always, belong to me, and are not indicative of the brand and/or company.