As a certified Beauty Belle and makeup enthusiast, I am a huge fan of Urban Decay cosmetics. Since purchasing my first Box of Shadows II in 2009, UD has been my go-to makeup line for rich, high pigmented eye shadows. Their palettes offer amazing color and I always get complements on my shadow work, which I owe to UD for giving me such awesome colors to work with.
Urban Decay just released two new palettes based on Disney's OZ The Great and Powerful, which stars James Franco, Michelle Williams and Mila Kunis. The two palettes represent the two witches at the heart of the story: The Glinda Palette (for Glenda the Good Witch) and The Theodora Palette (for Theodora, the Wicked Witch). Both palettes feature six UD shadow pans (the pans can be taken out and replaced and interchanged with other pans) with eight exclusive colors influenced by the movie OZ. Two of the shadows are duo pans, which have two colors included in one pan.
The palette also comes with Urban Decay's 24/7 Glide On Eye Pencil and a Super Saturated High Gloss Lip color.
The palettes are as follows:
The Glinda Palette
Tornado (purple shimmer)
Aura (2 shades in 1-iridescent white w/blue shift and iridescent white w/red shift)
Magic (pink/purple with shimmer of gold)
Illusion (pale peach)
Oz (2 shades in 1-gold shimmer w/gold glitter and silver shimmer w/silver glitter)
South (warm pale gray shimmer)
Eye pencil: Eggplant (deep purple)
Lip color: Glinda (sheer, light beige)
The Theodora Palette
Broken (pale cream)
Beware (brown matte)
Bewitch (dark charcoal brown satin)
West (metallic brown)
Spell (2 shades in 1-black satin w/green and gold shimmer and gold metallic w/tonal glitter)
Jealous (2 shades in 1-pale green pearl and dark green pearl)
Eye pencil: Black
Lip color: Theodora (bright red cream)
This past weekend, I purchased The Theodora Palette. Here are my swatches: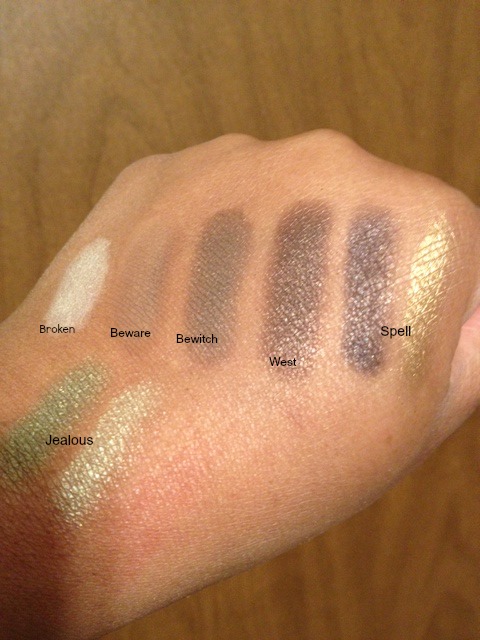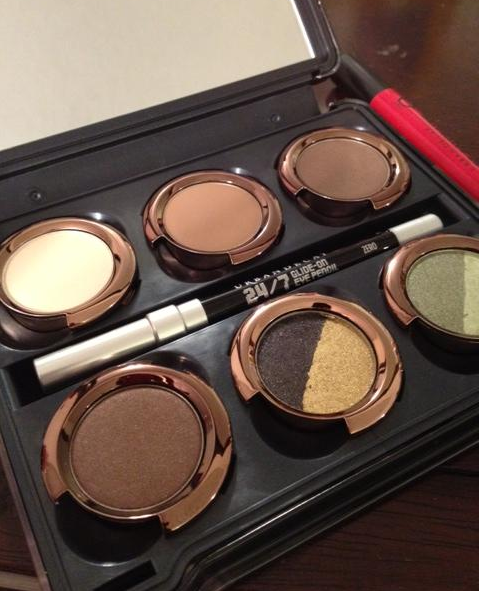 Both The Glinda Palette and The Theodora Palette retail for $49.00 on UrbanDecay.com.
Disney's Oz, The Great and Powerful hits theaters March 8th.