Written By: Style and Fashion Contributor, Coco Michelle
When the days get longer and cold, frosty mornings turn cool and sunny, you know springtime is just around the corner. Suddenly those scratchy, wool sweaters feel as though they weigh a ton and the thought of donning breezy, spring colors is almost intoxicating.
Don't worry. Spring may seem like it will never arrive, but it never fails to make an appearance.  While you wait for the warms days, let's take a moment and have a little spring fantasy time.  Starting with the fashion, of course. Because every good fashionista knows that you have to look good no matter what the season.
Spring is all about color! Here are a few spring color trends you can add to your must have list:
Navy Blue Rules
I am absolutely obsessed with navy blue!  One of the best places to see the season's color trends is to look at what celebrities are wearing on the red carpet. During awards season, navy blue was plentiful. The good thing about this versatile hue is that anyone can sport it. When choosing navy, try a monochromatic look. A touch of navy here or there simply won't do. You have to make a bold statement in navy blue!
Beyonce hitting the town in a Navy Blue curve hugging dress
Nicole Kidman rocking Navy Blue at the 2013 SAG Awards
Orange You Glad?
One color that I can't wait to wear is Pantone 16 Nectarine.  It has an orangy, coral feel to it.  I'm convinced this will be a very prevalent color right into summer.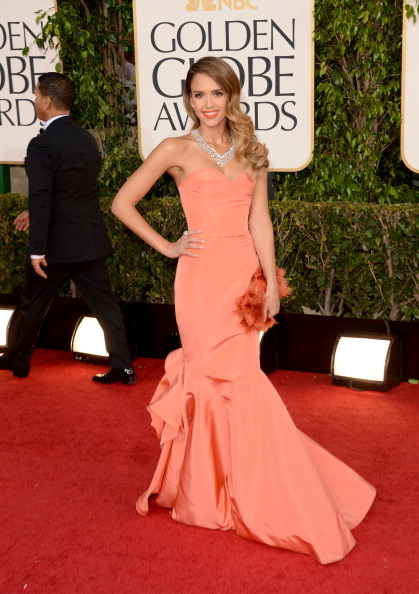 Jessica Alba wearing Nectarine at the 2013 Golden Globes
Make It Mint!
If nectarine isn't quite your shade, you have to try mint green. It's a lovely and very feminine and can be worn as a neutral accent color.  If you're bold, go ahead and wear it head to toe! (we also blogged about the Mint Green trends HERE).
Kerry Washington wearing a mint colored gown designed by Tory Burch 
Rihanna wearing Mint
Black and White
Perhaps the hugest color trend you will notice is black and white with very dramatic and distinct graphic designs. You'll see stripes and checks in clothes and accessories.  Nothing is more chic than black and white. Every season has an interpretation of this classic combination.  But this year is the most dramatic I've seen in many years.  Black and white might be classic but this year's interpretation is fresh, innovative and exciting.
Both Khloe and Kim Kardashian wear black and white to an event
Julianna Margulies at the 2013 SAG Awards
 You can also check out our coverage of Pantone's 2013 Spring Fashion Color Report HERE.
What does your Spring Fashion Forecast look like?
 Photo credit: Getty Images