In my family, there is something special about movie night. It's a time where we all get together and bond while watching an agreed upon film. Now that my son is 18 and my daughter is 9, they are growing farther apart in age. But when it comes to movies, it's something that they can agree upon, especially when it's movies that are fun. Movie night has become quite a positive experience!
Preparing for movie night in our house is always fun. We really like to make it an authentic movie experience, complete with snacks.
Here are three ways we prepare for movie night in our house:
Tickets please- My daughter is very creative, so she makes us tickets for the movie, which we have to present to her before we start the film. She goes out of her way to make the tickets as authentic as possible.
Snacks- Movie night isn't complete without snacks, and popcorn is a must. You can do to the dollar store and buy popcorn bags to serve the popcorn in to make it feel like you are really at the movies.
Silence is Golden- It's my duty during movie night to make sure that everyone has their smartphones, tablets, and other technology on silent. Our movie nights are a tech-free zone.
With those three tips, our movie nights are always a blast!
I was recently was introduced to Pop Secret's Find Your Critic Tool.  Pop Secret is known for their fabulous and yummy popcorn, but they also have created a way for movie lovers like me to find and discover what movies we should be watching during movie night. They've team with Rotten Tomatoes for the Find Your Critic Tool, and with it, you can go through a listing of films and see what everyone thinks about the movie with their critiques and ratings. You can also determine which critics you want to listen to. It's totally fun and interactive!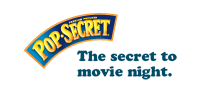 So during your next movie night, you can have help with the Find Your Critic tool, which will help you select a film that you will all enjoy and love.
Brand Statement: At Pop Secret, we love movies as much as you love movies. That's why we created the Find Your Critic tool with Rotten Tomatoes. It helps you figure out which movie critics you should listen to. All you have to do is rate some movies and the tool figures out which critics share your taste in movies. It even helps you follow your critics' new movie reviews and recos. So when it comes to enjoying movies, the only thing you have to worry about is which kind of Pop Secret to make. Check it out!
Disclosure: Compensation was provided by Pop Secret via Glam Media.  The opinions expressed herein are those of the author and are not indicative of the opinions or positions of Pop Secret.