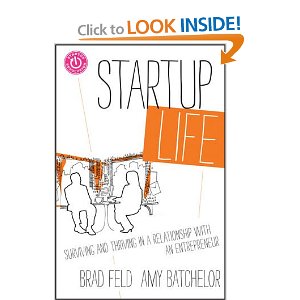 A few months ago, I received a book in the mail called Startup Life: Surviving and Thriving In a Relationship With An Entrepreneur. The title instantly had me at hello since I am an entrepreneur myself. The countless hours we spend growing our businesses and the stress it can sometimes cause being your own boss and wreak all types of havoc on your relationships. It's not easy being the spouse or significant other of someone who owns their own company, so I felt that the title and the book was most appropriate for what I go through in my life professionally and personally.
Since I've been traveling so much and on the road, it took me longer than normal to finish the book. But I am glad I read it because it was packed with goodness that is well-needed in this day and age. There are so many of us out there who have our own businesses and may be struggling with how to balance it while having a relationship. I know firsthand how difficult this can be, making sure you have time for it all, without neglecting the one you love.
Written by Brad Feld and Amy Batchelor (a married couple who are both in the tech world and have startups), the book is a welcome breath of fresh air for those of us who are living this type of life. I personally enjoyed the candor and the conversational tone of the book. The section I liked the most was about "public versus private" and "online versus offline". With prevalent social networks like Facebook and Twitter, it is so easy to put all of your business out there. But when you are an entrepreneur who may also be sharing these spaces with your spouse, significant other, or partner, lines can become blurred and indistinct. Startup Life gives real takeaways on how you can solve this problem and show the both of you what to share, and what not to share.
The book also discusses skills, tactics, and tools common issues and conflicts, money and finances, communication, and so much more. It's a helpful real-life guide on how to deal with these issues effectively. Brad and Amy also give "case studies" of different couples from all walks of life and backgrounds who are managing to live their dream of having their own business while being with the one they love and care for.
Startup Life: Surviving and Thriving in a Relationship with an Entrepreneur
is currently available at booksellers nationwide, and also on Amazon.
To learn more about the book, check out this recent interview with Brad and Amy below:
Disclaimer: TheCubicleChick.com received a review copy of the aforementioned book at no charge. This is not a sponsored or paid post, and all of the opinions expressed in this article belong to the author and are not indicative of the authors or publishers. Affiliate links are present in this article.
Photo credit: Amazon