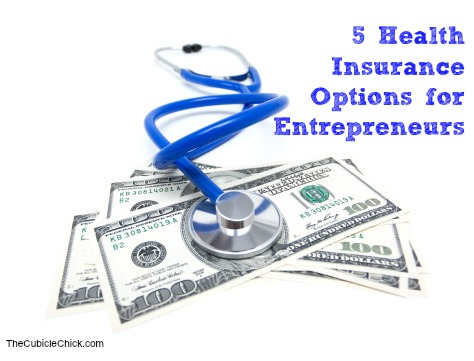 Many people (myself included), delayed becoming an entrepreneur, or decide against opening a small business because of health insurance and other benefits offered by most employers. The consensus is that there aren't many health insurance options for entrepreneurs, and that the insurance can be quite expensive when self employed.
Large companies have the ability to offer their employees benefits and options such as health care insurance, pensions, 401 k, life insurance, and other goodies that may be harder for smaller start-ups to afford. Entrepreneurs can also have these benefits as well and can offer them to their employees, no matter how small. And it can be reasonable too. There are plenty of health insurance options for entrepreneurs that don't break the bank.
Here are 5 health insurance options for entrepreneurs:
1. Organization or association plan:
If you belong to an organization or professional club or association (such as SHRM as an example), you can get health benefits as a perk of being a member. Because these policies are group plans, the monthly cost is comparable to what a larger employer offers and the co-pays are reasonable. This is a great option for entrepreneurs just starting out, or ones without full-time employees.
2. Self coverage:
Many insurance companies have insurance options that are just for entrepreneurs, start-ups, and small businesses with 20 or less employees. These policies cost about the same as you would pay out of pocket if you were an employee of a larger corporation or business. I currently have a self employed health insurance policy through Anthem Blue Cross Blue Shield which costs less than what I was paying monthly for my previous health insurance through my former employer. This plan also covers dental and the co-pays are $25 in network. You can also find plans that also cover vision too. Research or locate a broker who can help you find the right plan for you and your business.
3. State insurance:
There are some states that offer insurance plans for people who are self employed, or make less than a certain amount each year. This insurance is not a Medicaid plan, and resembles what state employees are given for health insurance. This is to foster the small business community and encourage people to start businesses in the state. You can check your state's website for more information.
4. College plans:
Colleges and universities also offer health insurance to their students who are enrolled at least part-time in the school. If you are currently taking classes or plan on doing so in the future, you may be eligible for the college's health insurance plan. This plan is also a group plan is usually not that expensive since each student also pays into it each month. You can contact your school to see if you are eligible for a health insurance plan through the college.
5. Part-time:
Many entrepreneurs also moonlight by working other part-time jobs. Some part-time employers also offer health insurance benefits to their workers as an incentive to keep their workforce healthy and productive. If you are currently working part-time or as a contractor, you may be eligible for this healthcare benefit.
If you are holding onto a job you don't want for health benefits, think again. These same benefits are within your reach if you decide to strike out on your own.
Has the fear of not having health benefits stopped you from becoming an entrepreneur?
(Yes, "Obamacare" or better yet, Univeral Health Insurance is coming. But until then, I hope one of these options works for you!)