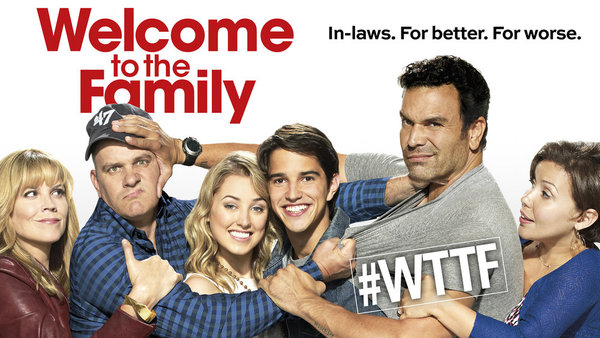 I always appreciate a television sitcom that can incorporate everyday life into its themes. Recently, I stumbled on NBC's new sitcom Welcome to the Family, a show about an engaged eighteen year old couple who are expecting their first child. What's more is their families are having issues getting along while dealing with the situation. And, they aren't the only ones who are expecting.
Before I give more details regarding the show, let's discuss its most prevalent themes. In-laws and getting along as two families blend together can often be difficult. I absolutely love my in-laws and have an awesome relationship with them, but I also know that I am more of an exception to the rule than anything. In Welcome to the Family, not only do the two families have to come to grips that they are going to be grandparents, but they have to do so while trying to get along. The mothers of the teens seem to be doing a better job than the dads, who are always competing and trying to one up one another. It makes for interesting, yet realistic television.
Another prevalent theme is meddling. Who can't identify with someone, say a relative, parent, in-law, spouse, trying to meddle in other's affairs? Everyone wants control but few people know how to do it without causing some sort of chaos. Welcome to the Family shows us that while meddling is not cool, it's also something that many families go through. It is like a rite of passage.
And how does one deal when they are expecting only to find out that their parents are expecting too? Your mother is not only going to be a grandmother but a new mom to a new baby as well?
WOW!
So to say Welcome to the Family is must see TV is an understatement. The next episode airs on Thursday, October 17th at 8:30/7:30 pm CST on NBC. It deals with the families coming to grips with the reality that two babies will be born—not just one. Eva Longoria guest stars on this episode and reunites with her Desperate Housewives co-star and TV husband Ricardo Chivira (Miguel Hernandez), who plays the dad of the leading teen boy character, Joey Haro (Junior Hernandez).
For more info, click here!
Disclosure: TheCubicleChick.com was compensated in exchange for this post. The opinions expressed belong to the author and are not indicative of the brand, company, or partners.