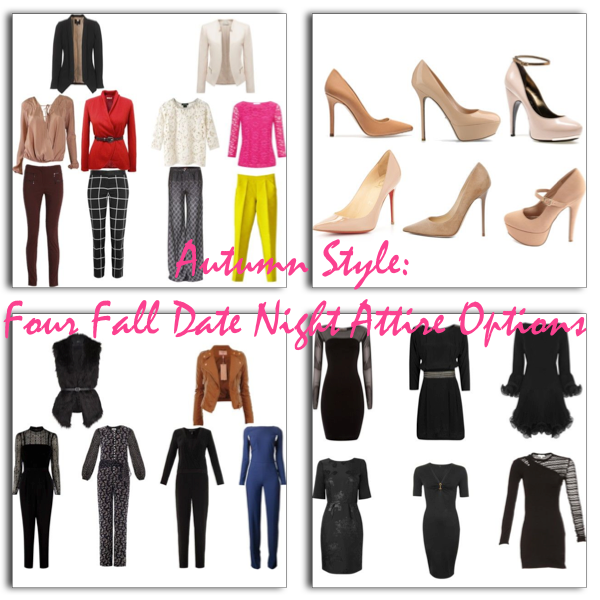 I am so excited that fall weather is slowly starting to make it's way in to my area. I get to break out my favorite cool weather attire for after work networking events or a dinner date with my significant other. It is time to share my latest "desk-to-dinner" suggestions that can easily transition you from office savvy to date night chic. The key is to add or remove layers and accessorize!
The Jumpsuit + Jacket or Vest
A jumpsuit is one of the easiest pieces in your wardrobe to style. It makes a statement on it's own.  There is little to fuss over as you can select a very casual look or a glam look. During the day, wear flat shoes and minimal jewelry with your jumpsuit. After work, pull out your dancing shoes, accessorize to the max and freshen up your makeup. If your jumpsuit is patterned or textured then throw on a fun vest so you do not completely cover it up. If your jumpsuit is solid, then add a light leather jacket with some structure to accentuate your shape!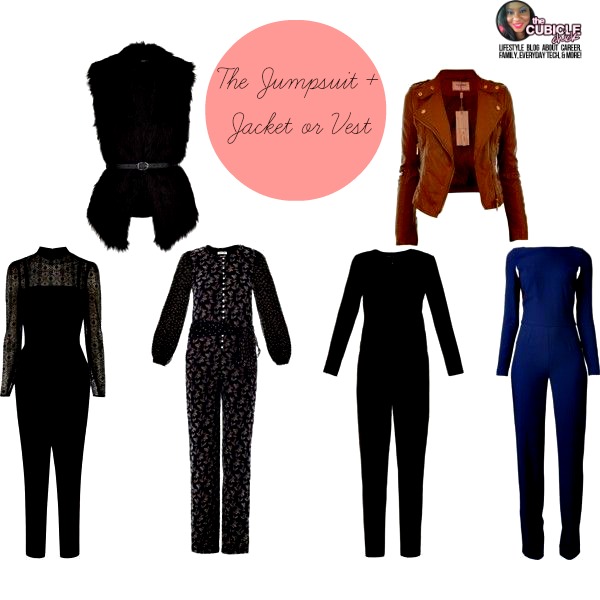 Nude Pump
Nude pumps are a staple piece that should be in every woman's closet. As you can see in this picture, nude pumps come in a variety of shades so it is easier to match the shoe to your skin tone to lengthen the appearance of your leg. Nude shoes can be worn with just about anything from bold colors, to prints to solid basics.
Pants + Simple Top + Jacket
Remember this formula because it will help you to not think so hard in the morning!  Wearing a pair of tailored pants with a simple shirt or even a silk can be extremely becoming. If you tend to get chilly or to make your outfit office appropriate, wear a blazer or jacket (avoid a suited look by picking a different color) with simple accessories and a flat or kitten heel at work. Time to pull out the stash of shoes from under your desk to pick out the best pump to finish off your look.
The Little Black Dress
The little black dress is a year round staple that most women own. Wrap dresses and shift dresses are great for work and can be dressed up for after work affairs. The trick to remember with your dress is that it should be professional in terms of length and coverage. Keep a basic cardigan at your desk to throw it over your dress during the day. Lose the cardigan and add some bold jewelry for a date or meeting with friends.
Topknots are convenient at work and can give you a polished look. For after work activities be sure to let your hair down, literally.  Take a quick trip to the restroom to make sure your hair is in place and that your makeup is refreshed.
Photo courtesy of Glamour.com (here)
Cheers to the changing weather and make the most of your Fall wardrobe by taking it out on the town. What date night outfit staples that I mentioned above will you be wearing this Fall?
By Fashion & Style Contributor, Karen Curtis, yourstylistkaren.com