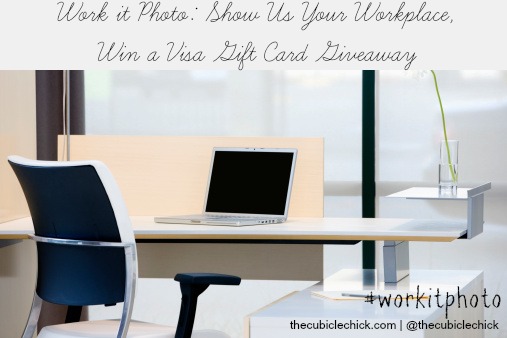 Around these parts, we celebrate the working folk, the careerists, the entrepreneurs, the dreamers, the backbone of our communities. So I thought it was fitting that we have a giveaway that is exclusively for you. One that pays homage to those of us who are grinding it out everyday, taking one step closer to our dreams as we strive for excellence. We've done a few Instagram Photo a Day Challenges in the past, but now we are going to do one that is going to be fun and easy breezy.
This giveaway will go like this: share a photo of your workspace on Instagram and tag it with the #WorkItPhoto hashtag. The photo can be of ANY workspace that you use—your desk at work, your shop if you are a beautician, your truck if you are a delivery driver, etc. Whatever you do and wherever you work, just upload your photo to Instagram and tag it to be entered to win (as long as it is family friendly, of course).
Then leave a comment below letting me know what you would do with the gift card, should you win. It's pretty simple.
One winner will be selected at random and win a $50 VISA gift card for sharing their photo and tagging it on Instagram.
This giveaway is open to U.S. and Canada residents only, void where prohibited. The contest will end on Thursday, November 21, 2013 at 7pm CST. The winner will be notified via email, so make sure that when you are leaving a comment, you are using an email address that you check regularly. The winner will have 48 hours to claim their prize, or another winner will be selected.
Oh, and make sure to follow me on Instagram: http://instagram.com/thecubiclechick.