With the holiday season in full swing, many of us are preparing to spend time with our loved ones both near and far. More families travel during the holiday season than any other time of the year, and it is a time that many of us play host or hostess for out of town guests. I, for one, host many of my friends and family members who travel from other cities to spend this special time with me and my family, and there isn't always enough room for everyone to be comfortable and hang out. When this happens, I always look to lodging options that aren't too far from my home that offer special amenities ready-made for the holiday season that my guests will enjoy and appreciate.
I was recently given information about Hampton Hotels and their Hampton Hotels Holiday Program. Because Hampton understands that there isn't always room for everyone in your home, they've made it a point to make their hotels a fabulous temporary living space for your guests, allowing you peace of mind. As a matter of fact, Hampton not only encourages your guests to stay at their properties, but you as well. Why not have the entire family partake in their Hamptonality—-with 1,900 locations around the globe, chances are, there's a Hampton nearby. And since Hampton does all of the work, you can spend more quality time together.
Hampton Hotels' Hamptonality features the following:
All Hampton hotels offer comfortable surroundings and a friendly service culture, defined as "Hamptonality," delivered by over 50,000 Team Members and supported by the 100% Hampton Guarantee®, reinforcing its commitment to providing excellent service to both business and leisure travelers alike.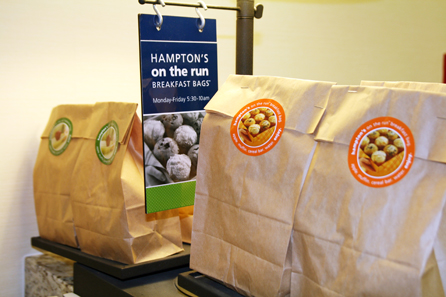 The Hampton Hotels Holiday Program offers free WIFI, free hot breakfast (yummy fresh-baked waffles, etc.), on the run breakfast if needed, multi-unit Power Cubes so that everyone can recharge and plug-in, as well as their signature Clean and Fresh Hampton Bed®, so everyone can be well-rested and prepared for the holiday festivities and fun.
A few years ago, before my son moved to Los Angeles, we didn't have a guest room, and I was always forced to make some time of makeshift accommodations for my holiday visitors, either with an airbed, sofa sleeper, or sleeping bags in my living room. While we did what we had to do, it would've been nice to have a option of the Hampton Hotels Holiday Program. It would've made my guests more comfortable, and me less stressed out. And being how there is a Hampton Hotel about five minutes away from my home, it would've been convenient for everyone involved.
And you don't have to feel that you are being a bad host for not putting up your guests in your home. Hampton Hotel's Holiday Program has a few tips that you can use to make your guests feel fabulous while visiting:
Tip 1: Be the best OFF-SITE host ever…
Let's be honest. You love your friends and family, but cramming everyone into your house for days at a time can be stressful and add to your already lengthy holiday host to-do list! If you simply don't have enough room to host all of your holiday guests or you just think everyone would be happier with their own, comfortable space, consider booking them at your local Hampton.  With more than 1,900 locations, Hampton is the perfect place to stay no matter where your guests may be traveling from.
Tip 2: Surprise your guests with welcome treats
Make sure guests know how excited you are to have them for a visit by surprising them with a little treat when they arrive.  One way to greet them is with something personalized with their name on it, like a decorated sugar cookie or a festive welcome sign. They will love staying at Hampton Hotels because they take a similar approach. They often add a personal touch for a guest's stay by offering a favorite local snack or fun local item when guests check in.
Tip 3: Be prepared with lots of snacks
We all get a little grouchy when we're hungry – adults and kids alike!  Anticipate those moments by having snacks planned for afternoons and before dinner to keep everyone happy.  Be sure to include fresh options like fruit and crunchy veggies, along with filling cheeses and more decadent treats so you have something for everyone!
Now that I know about this program, the next time my "inn" is filled, Hampton Hotels is where my guests will go. I might even join them, too! Join me in making the holidays less stressful by utilizing Hampton Hotels Holiday Program.
Learn more about Hampton Hotels on their website here.
Connect with Hampton Hotels online at www.faceboook.com/Hampton, http://twitter.com/Hampton,  http://www.instagram.com/Hamptonality or www.youtube.com/Hampton
Disclaimer: Compensation for this post was provided by Hampton Hotels via MomTrends. The opinions expressed herein are those of the author and are not indicative of the opinions of the brands and/or companies mentioned.