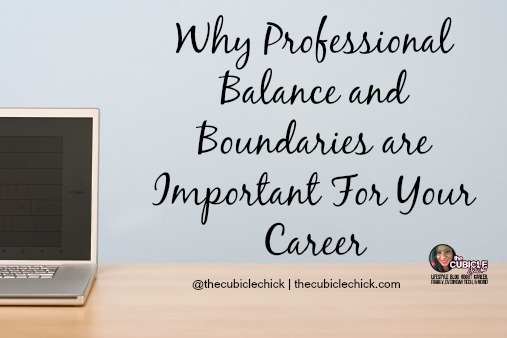 If you are anything like me, you have a lot on your plate. Between work, business issues, family, obligations—the list goes on and on. Having your priorities in order while utilizing both balancing and boundary techniques can do a lot for you. Without them, you may suffer from more stress, burnout, and even health problems. While we all want to do what we can to make sure that our careers prosper, it is important to know how to balance effectively.
There's been plenty of talk about Work Life Balance and why it isn't viable in today's world. But without it, how does one make sure both professional and personal needs are met? As I stated in my eBook, SHINE: 10 Tips for Effective Work Life Balance (click here), balance does not mean perfection—it means that you are working on a regular basis to help balance each sector of your life. And that is just important today as it has ever been.
Here are some reasons why professional balance and boundaries are important for your career:
Allows for growth
When you aren't bogged down with being overworked and overstretched, then you are able to grow professionally. You are able to continue your education if you want to, take refresher courses, etc. Being able to "turn off" when you aren't at work allows for personal growth and development, which in turn, can make you a more rounded person.
Makes you a happier employee (and person)
Most careerists will tell you that even though they love their professions, they enjoy the fruits of their labor outside of the workplace. And when you are well-rested and have time away from the J-O-B, then you come back refreshed and ready to take on your workday, which of course makes you a happier person to be around and a happier employee. And when you are more positive, you tend to work more effectively and take more pride in your work.
Setting boundaries at work is a great way to ensure that you have balance. It also ensures that the lines between personal and professional aren't blurred.
Working during non-working hours shouldn't be an expectation
We all have to work in the evenings or on the weekends at some point. But making it a habit may set up the expectation that it will always be like that. And the one time that you can't, then it will be an issue. Set boundaries and make sure that you make it clear that you aren't available all the time during non-work hours. The same should be true for answering work phone calls, emails, etc. The boundaries are needed for balance.
Delegation
When you can, delegate, delegate, delegate. I cannot stress this enough! The "I can do it all" mentality can only last so long. There will come a breaking point, and when it happens, it could be catastrophic. Throw the micro-managing/control issues out the window and hand tasks off to others when you can. This can help with boundaries, because you are not allowing yourself to get bogged down with duties that may not need as much attention as others.
Fraternization amongst coworkers and colleagues
I have always been one to keep business on the professional spectrum and personal separate. As an HR professional, we have to. But as employee, becoming friendly with your coworkers and doing things together outside of work can be acceptable (depending on where you work). But remember to keep your boundaries when personally dealing with coworkers. It can be a slippery slope that can cause a lot of drama and stress, so act accordingly. And when in doubt, just say no.
This is your career—your livelihood. Make sure to keep it stable, healthy, and thriving by exercising balance and boundaries professionally. Less stress, less drama, and more positive experiences. Let me know your thoughts!
(Oh, and look below and learn how you can download my eBook on Work Life Balance for FREE!)