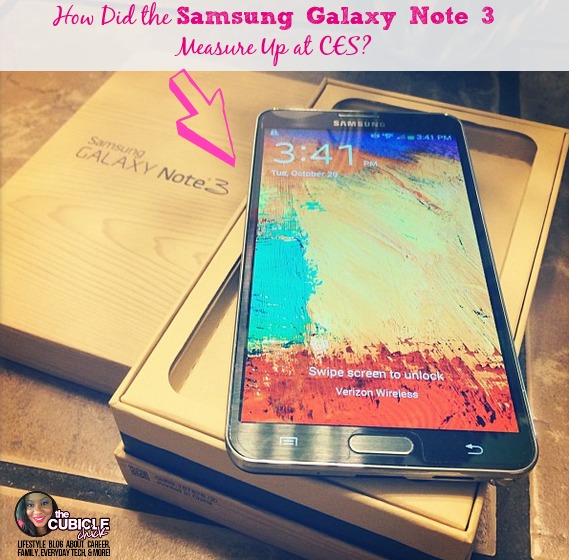 Last month, I started the year off with a bang by going to the International Consumer Electronics Show (CES) for my 4th time. One of the issues that I have had in the past is being able to stay powered up and data'd up while being at the show. Because it is a 4 day long event, and you are there for 8-10 hours daily, it can be hard to stay connected. So this year, I brought along three devices to help me along—the iPhone 5s, the Moto X, and the Samsung Galaxy Note 3, in hopes of being able to be efficient and productive during the show.
Verizon furnished me with the Samsung Galaxy Note 3 to use while at CES, so of course I wanted to push the limits with it to test its battery life, 4G LTE speed, and overall usability. Here are my thoughts:
Camera:
While I have found the phone a little cumbersome to use because of its large size, I must say that I found myself using it more to take photos. There is so much to see and capture while at CES, so being able to take photos that are crisp and clear while sharing them on social media and blogs is of most importance. The rear facing camera is 13MP, and the shutter speed is pretty wicked. You can take continuous shots without missing anything. And the front-facing camera (which a selfie queen like myself uses frequently), has intuitive design which will "beautify" your photos without you having to go back and edit. The front-facing camera is 2MP, and pretty impressive compared to other smartphone cameras on the market.
Battery Life:
I pushed the limits with this phone for six days, and it kept up with me every step of the way. The battery life (as I mentioned in this post here) is wonderful. I went a full 12-14 hours each day and still had battery left at the end of the night. For this reason, I found myself using it more to save the battery on my other devices.
Phablet:
There were times when I had to write things down (when meeting with brands and getting information, sometimes old school writing is the way to go). I loved the fact that I could actually "write" and use the S Pen with the Note 3. I had a traditional notepad with me as well, but never used it. With the Note 3 being a phablet (a combination of a smartphone and tablet), I could do so much more with it—and I kept my iPad Mini at the hotel.
4G LTE:
This is where things get weird. Both my iPhone 5 s and the Samsung Galaxy Note 3 were on Verizon's 4 G LTE network. But there were times when my social media accounts and browser were slow to use on my iPhone. But on the Note 3, things were loading top speed. I was in the same venue on the same network, but the Note 3 did outperform. When it came to updating my social networks, you can bet I was using the Note 3 more. And with the Swype feature, it's a snap, too.
The Samsung Galaxy Note 3 performed well during the big show and it has really impressed me, especially since I was using it neck-to-neck with other devices. If you are on the fence about whether or not the Samsung Galaxy Note 3 is official, I can tell you that it is.
For an overview of my favorite features of the Samsung Galaxy Note 3, click here.